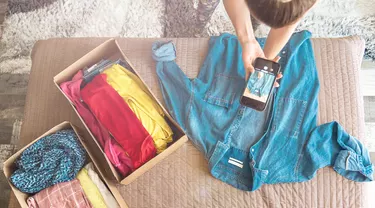 Depop is one of the new online marketplaces and is a mobile/online fashion app that had more than ​30 million​ registered users in 2022, with ​4 million​ active buyers and ​2 million​ active sellers, according to Business of Apps. They're not grandma's crowd, either. Most users are no older than age 26, and teenagers have given it higher marks than eBay and Etsy, according to the Craft Industry Alliance. But you're not out of the loop if you have something you want to sell and you happen to be a bit older.
Depop is next-generation shopping. Gone are the days of secondhand clothing. Depop has tagged its available used merchandise as "preloved," but the site doesn't stop at apparel. It features craft items as well, and a good many sellers have launched their own brands here. You can drop the term "pre-" in this case.
The most difficult aspect of becoming a Depop seller might be creating or gathering your merchandise for sale. Then it's just a simple matter of downloading the app. You can do this directly from the Depop website, or go to Google Play or Apple's App Store.
Now build your profile to start setting up your Depop shop. Create a bio describing your shop and connect to your payment account. Depop Payments will send your money directly to your PayPal account or bank account, so you have to link to that, too. Your first payment may take up to 10 days to arrive using this option, but it should only be two or three days after that first time.
You can include up to four photos of your merchandise, and one of them can be a video. Depop offers a handy photo guide with tips in its seller handbook, which serves as a beginner's guide. Tag the item with a category such as "shoes," and give an honest description of its condition if it's used. List your price and shipping cost and if you offer any seller protection guarantee.
Take care to clearly state your returns and shipping policies. Tell potential buyers where your items will be shipping from. To boost your sales, make sure to advertise your items on your social media channels.
How Much Does Depop Cost?
Depop charges include a transaction fee of ​10 percent​ of your sales price per item sold, and this is a flat across-the-board rate. There are no additional subscription, listing fees or other Depop selling fees. As of July 2022, Depop transfers your money to you via PayPal, Google Pay, Apple Pay or a debit or credit card, according to the company's website.
In addition to Depop fees, PayPal fees are another ​3.49​ percent per transaction if you're located in the United States. You can avoid PayPal charges by using another payment app to connect your bank account to your Depop account. Check each app's or card's policies regarding charges for commercial transactions.
And you might want to consider free shipping of your merchandise. It can add to your costs, particularly because you're selling to a global community, but it might also ratchet up your sales. You can also ship with Depop, which provides a shipping label service too, but you must still deliver the item to a courier. This can cost an additional ​$4.50​ to ​$15​ per shipment. You can also use your own shipping, or a service like UPS, the USPS or FedX.
Don't forget that you might also have to pay sales and income taxes on what you sell, depending on the state where you live and your volume of sales.
Maybe you're not the crafty or entrepreneurial type. You just want to buy some unique fashion items and accessories. You can access the site online. Create an account. All it requires is your phone number. Log in, find the to-die-for item you want to own and click "Buy Now." You'll be prompted to enter your email, delivery address and a payment option. You'll receive an email confirming your purchase and your receipt will be available in your account.
Buying on the app is basically the same but with a couple of wrinkles. You have to take an extra step. Clicking "BUY" will add the item to your shopping bag, then you have to proceed to checkout. The edge you'll have with the app is that you can remit via Google Pay, Apple Pay or PayPal.
In either case, you can tell Depop about your style interests and sizes, and you'll receive recommendations for purchases. You can search by style, brand or prices, and you can save your searches. Buyer protection is built-in and automatic, although it's up to you to initiate a claim with Depop or your payment processor if your purchase doesn't arrive or isn't as advertised.