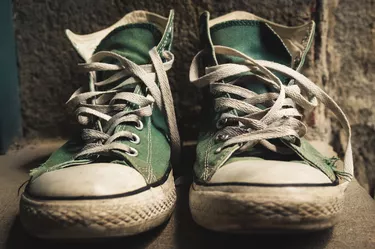 Millions of people are selling well-worn shoes on eBay, Poshmark, Shpock and other platforms. So, if you're ready to say goodbye to your old sneakers, don't just throw them away. With some luck, you could sell them for hundreds of dollars. Depending on what you plan to sell, you may target sneaker collectors, deal seekers or buyers looking for rare or hard-to-find shoes.
Tip
Consider selling your old shoes on a niche platform rather than a more general marketplace like eBay or Craigslist. Poshmark, Tradesy, Grailed, Kixify and ThredUP attract fashion enthusiasts from all over the world, so you might want to check them out.
Selling Well-Worn Shoes Online
American consumers bought more than two billion pairs of shoes in 2018, reports National Geographic. That's about seven pairs per person. Some people own an entire collection of sneakers, boots or stilettos. What you may not know is that selling well-worn shoes can be a profitable venture – for example, sneaker collectors are often willing to pay thousands of dollars on a pair of vintage Air Jordans, regardless of their condition. But you can also make money selling regular shoes.
First, choose an online platform to post your listing. Decide whether you want to use a more general marketplace, such as eBay, or a niche platform like Grailed or StockX. If you have a large following on social media, try to sell your old shoes on Facebook, Pinterest or Instagram. However, your best bet is to register on a dedicated platform. For starters, consider these options:
Poshmark
BuyMYheels
Mercari
Tradesy
Kixify
Shpock
OfferUp
ASOS Marketplace
Facebook Marketplace
VarageSale
Depop
Grailed, for example, specializes in used designer clothing and footwear. All you need to do is to sign up for an account, create a listing and post at least three photos. Your listing must include a brief description of the product, plus relevant details, such as the size, measurements, color, retail price and shipping fees. The platform charges a 9 percent commission on each sale. A similar option is StockX, an online marketplace that allows buyers to bid on their favorite products.
For women's shoes, head over to buyMYheels. This online marketplace is a favorite choice for those looking to buy designer boots, stilettos and wedges, but you can find other styles, too. Other platforms, such as Flyp, match users with professional sellers. You simply pack and ship your old shoes to a pro seller and let him do all the hard work in exchange for a commission.
Create Effective Listings
Selling well-worn shoes online is different than taking them to a thrift store. Prospective buyers cannot touch and feel the product. As a seller, you need to draft a compelling listing that tells customers what they need to know. At the same time, it's important to optimize it for the search engines to make sure it reaches potential buyers.
Consider using WordStream, Ubersuggest or SEO Scout to find relevant keywords for your listing. Include them in product descriptions, headlines and image titles. For example, if you're selling an old pair of boots, add relevant keywords like "used old boots," "used work boots," "second-hand boots" or "used designer boots." Include the name of your city as well, especially if you prefer to sell locally.
Next, take clear, crisp photos from all angles. Ideally, set up your items against a plain, uncluttered backdrop and use soft lighting, suggests eBay. Since you're selling well-worn shoes, make sure you capture any blemishes and signs of damage. Last but not least, write a catchy headline that includes relevant keywords along with the brand name, size, color and condition of the products you wish to sell.