Gift cards are a huge and growing market as they're a convenient way to give and receive gifts. You can buy a gift card using a credit card or cash, but if you don't have either on hand, you can still purchase a gift card online or at a retailer using an electronic check. Unfortunately, you may find your options are limited at the moment, although more retailers are accepting eChecks with each passing year.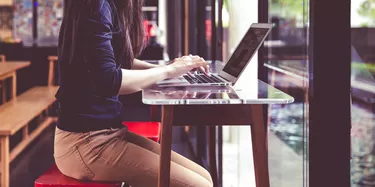 Walmart
You aren't limited to buying just Walmart gift cards on the retail giant's website. You can purchase gift cards for restaurants and other retailers on the site as well. The way to make this work is to use a Walmart MoneyCard to make your purchase. Prior to shopping on the Walmart website, you'll need to load your MoneyCard with the money you intend to spend using an eCheck. To do this, simply log into the app, select "Add Money" and then "Deposit a Check." The app will walk you through the rest of the process. However, keep in mind that this service is available for Walmart MoneyCard Preferred cardholders only.
Amazon
Another one-stop-shop retailer that accepts eChecks for gift card purchases is Amazon. The company lets you add your checking account as a payment method. You will need to enable it for Automated Clearing House, an electronic funds-transfer system, and then enter your routing number and account information. You'll also need your driver's license number for verification purposes. Once all that's in place, you can buy Amazon gift cards and other gift cards that Amazon sells like Apple iTunes and Visa.
PayPal
If your recipient shops online, a gift card from PayPal can come in handy, especially for sites like eBay and Newegg. PayPal not only allows you to connect to your checking account, it encourages it. You can go to PayPal-Gifts.com and search through gift cards for a wide array of retailers, then pay using your PayPal account. This way, you can avoid the delay that occurs when you use PayPal's eCheck service to make a person-to-person payment, but it will still come out of your checking account.
CardCash
Another option for buying gift cards using an eCheck is CardCash. You can choose from CardCash's large selection of retailers and pay using your PayPal account. If you purchase $1,000 or more in gift cards, you can separately request ACH access to have the funds transferred directly from your checking account. A compliance expert manually reviews each ACH request, so you'll have the peace of mind of knowing it's being set up securely.