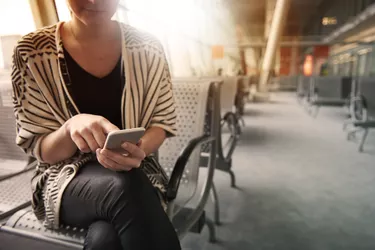 The Netspend® Visa® or MasterCard® Prepaid Card gives you many of the same features of a debit card but doesn't require you to have a checking or savings account. That makes it a viable choice for consumers who choose not to open accounts at banks or credit unions. You can pay for purchases with the Netspend card up to its balance. If your balance is too low to pay for a purchase, the card is declined, without a fee, so it's important to know your Netspend balance before making a purchase; there are several ways to check it.
Netspend Anytime Alerts
Anytime Alerts is a Netspend mobile app you can use to track your card balance and activity. The app lets you specify which alerts to receive and when to get them. You can get alerts on a daily, weekly or transactional basis for received deposits, declined transactions, budget notifications and individual transaction details.
To query your card balance, you text "BAL" to the Netspend SMS number 22622. Anytime Alerts are supported on most mobile carriers including AT&T®, T-Mobile®, Sprint®, U.S. Cellular® and Verizon®.
Netspend Mobile App
The Netspend Mobile App operates on mobile devices to provide card services and information. You can use the app to view your card balance and recent transactions and dive down for further details if desired. You can also use the app to send and receive money, load checks and find the nearest reload location.
Netspend Online Account Center
Another way to check your card balance is to log onto the Netspend Online Account Center using your computer, tablet or phone. The website encrypts your data via Secure Socket Layer technology to prevent theft. You can also use the website to view recent transactions, enroll in the Netspend Payback Rewards program and set up Anytime Alerts.
Other Sources of Balance Information
You can check your card balance by calling the Netspend toll-free number 1-866-387-7363 and responding to the automated prompts. You can also get your balance at any of the participating ATMs at the Netspend reload locations. You can query the Netspend website location finder for the nearest Netspend reload location and load more cash or checks onto your card at these locations.