The Netspend® Visa® or Mastercard® Prepaid Card allows you to add money from several sources. Once you load money, you can use the card to shop online or at stores, or to pay at restaurants and any other location that accepts debit cards. You can't spend more than the loaded amount, which means you will never be charged for insufficient funds. Your Netspend Prepaid Card is linked to an account at one of several banks. All are members of the Federal Deposit Insurance Corporation, and your card balance is insured for up to $250,000.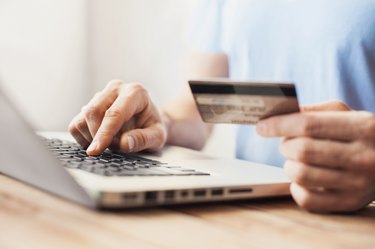 Money Transfer
If you prefer, you can open a Netspend Savings Account and link it to your prepaid card. If you set up the savings account, you can transfer money at any time from savings to your Netspend Prepaid Card through a phone call, the Netspend website or the Netspend mobile app. You are allowed to transfer money from savings to the prepaid card up to six times per calendar month. You also can have other Netspend cardholders transfer money directly from their accounts to yours. This service is free if performed online, but costs senders $4.95 if they use a customer service agent over the phone.
Direct Deposit
Direct deposit is another way for you to load money onto your Netspend Prepaid Card. With this method, certain payers can deposit money directly onto your card without writing you a paper check. You can use direct deposit for paychecks, tax refunds and government benefits. Payers can arrange with Netspend to give you immediate access to direct-deposit funds, instead of making you wait two days for the payment to settle. With direct deposit, you avoid having to go to a bank to deposit a paper check.
Mobile Check Load
You can deposit checks electronically to your Netspend card though a mobile app. After you receive your card, you can load the latest version of the Netspend Mobile App on your iOS or Android smartphone. Then, you can use the Mobile Check Load function to deposit a paper check by signing the back and using the phone to photograph the check's front and back side. The app transmits the check images to Netspend, which then verifies the payment. In some cases, the deposited cash will be available for you to spend within a few minutes.
Reload Locations
If you want to add cash to your Netspend card, you can visit any of the 130,000 reload locations throughout the U.S. You can find the nearest location using the Netspend website or mobile app. Many dollar stores, supermarkets, pharmacies and other retailers participate in the reload network, and most charge a reload fee of $3.95. You can deposit cash or checks in person to your Netspend card at any reload location.