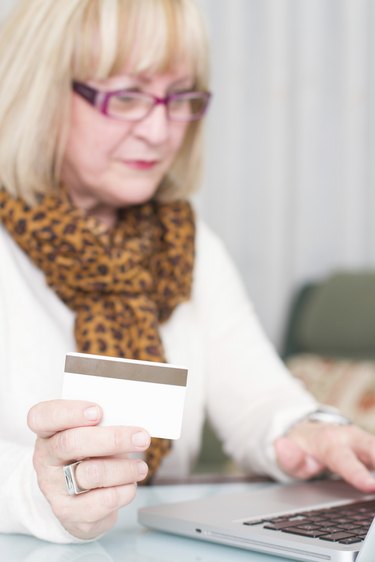 The Social Security Administration offers recipients of Supplemental Security Income and Social Security the option of receiving benefit payments via the Direct Express card, a MasterCard debit card that allows them to use their benefit funds. Benefit recipients and representative payees who receive benefits on behalf of others may sign up for the card. The card-issuing bank does not require benefit recipients to have a bank account or undergo a credit check.
Sign Up
New recipients of Social Security benefits need to wait until receipt of the first benefit check to apply for the Direct Express card. Recipients who already receive benefits by check or direct deposit may apply at any time, including those who live outside the United States. Users signed up to use Direct Express before April 1, 2008, can switch to the new card, which has added features and lower fees. Sign up for the Direct Express card on the USDirectExpress.com website or by calling the enrollment center at 1-800-333-1795.
Activate Card
After your enrollment is approved and a card issued, Direct Express will provide Social Security Administration with the information required to transmit benefit payments directly to your card. Once you receive your Direct Express card in the mail, call the Customer Service Department at 1-888-741-1115 to activate the card. Activation requires that you enter the 16-digit number printed on your card, your date of birth and the last four digits of your Social Security number.
Card Use
Benefit payments are deposited electronically to the Direct Express card account each month on the payment date assigned by the Social Security Administration. Purchase or payment amounts are deleted from your card balance at the time of the transaction. You may use the card at places that accept MasterCard debit cards, including outside of the United States. Make purchases and pay bills in person or online and withdraw cash or check your balance at automatic teller machines. Although you cannot add personal funds to the card, you can transfer funds from the card to your U.S. bank account.
Fees and Account Management
Direct Express charges fees for certain transactions, such as transfers, card replacement and paper statements. Some fees are charged after use of the first free transaction, such as a withdrawal. Owners of ATMs outside the Direct Express ATM-network charge a surcharge fee for use of their machines. Go to the Direct Express website to find one of the 50,000 surcharge-fee ATMs as well as see a listing of fees and other card benefits. Check your balance, transfer funds and view your account activity, including any fees.