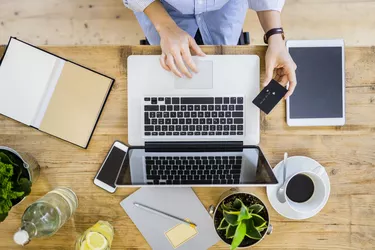 Thanks to advancing technology, consumers can instantaneously and securely transfer money in and out of their accounts. American Express money transfers can be made by customers using several methods including balance, wire and online transfers. Using American Express money transfer services, a customer can fund a new account, send money to family or friends, or move money between accounts.
The Serve Card
American Express' Serve card is a prepaid, reloadable card that you can use to transfer money to another person. Once you register your card and sign up for an online account, you can choose the "send and receive" option. Enter how much you want to send and the receiver's email address. American Express notifies the receiver that he has a pending transfer; he must have a Serve account or sign up for one to receive the transfer. American Express imposes transfer limits on some customers.
Using Personal Savings
Customers with an American Express Personal Savings account can transfer money into and out of the high-yield savings account. Before you can make transfers, you must link an external checking or savings account from another bank. You'll need the routing and account number of the external account, and the external account must belong to you.
American Express allows you to link up to three external accounts. Once American Express verifies the accounts belong to you through two test deposits, you can log into your account, choose the "transfer" link and move money in and out of the account. You can also make deposits into this account through checks sent directly to American Express.
Take Advantage of Balance Transfers
If you own other credit cards and want to move some of the balance of another card onto your American Express card, choose the balance transfers option. Each card has its own balance transfer options. To find out what offers are available with your card, log into your account from the balance transfers page on the American Express website.
If your card qualifies for any offers, you can take advantage of them by entering the account number of the card you want to transfer from and the amount you want to transfer. Depending on your card, there may be a balance transfer fee. The Blue Cash Everyday card, for example, charges the larger of $5 or 3 percent of the transfer amount.
Making Wire Transfers
For businesses and individuals that want to transfer money to someone internationally, American Express offers the FX International Payment program. You do not need an American Express card, and there are no sign-up fees. Complete an application form online, then receive your account log-in details from American Express.
From your online account, you can set up transfers, view current foreign currency exchange rates and track past transfers. Certain wire transfers incur fees, so when you enroll, you link a bank account to your FX International account to cover those fees and any foreign currency exchange costs.