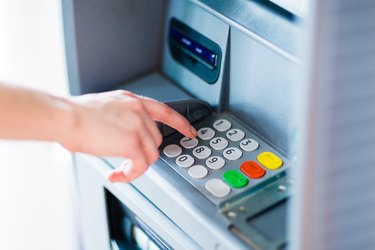 An ATM card or debit card allows you to transfer funds between linked accounts directly at an ATM. You won't be able to transfer money to accounts at different banks or someone else's account at the machine. However, online methods make it possible to transfer money to other people or accounts held at separate banks. Understanding your options for different payment methods will help you avoid problems and get your money quicker.
You can visit any ATM to make the transfer. However, the bank that owns the ATM and your bank may charge fees for the service. You can avoid fees by visiting your bank's ATM. Complete the transfer by inserting your card, entering your Personal Identification Number, and selecting the "make a transfer" option from the screen.
Choose the account from which you want to transfer money to receive the funds. Enter the amount and select continue. If the ATM charges a fee, you'll need to accept the fee or decline and cancel the transaction.
Note that if you must transfer funds immediately between un-linked accounts or accounts held at separate banks, conduct two separate ATM transactions. Withdraw the funds from one account, then deposit the cash at the ATM by inserting the other bank's ATM or debit card. Service fees for both transactions may apply.
PayPal allows you to send, receive and transfer money online. After registering for a free account, you can link debit cards, credit cards and bank accounts to your PayPal account. Instead of revealing your card number when you make an online purchase, the recipient only sees your email address.
If you have money in your PayPal account, you may transfer the funds to any bank accounts you have added. Generally, it takes three to four business days to transfer money from PayPal to a bank account if you use the standard transfer option. You can choose to have the money deposited into your bank account using the instant transfer option for a small fee. PayPal also offers a free debit card you can use to access your account funds immediately at an ATM.
You cannot use your ATM or debit card to transfer funds online, but you can do online transfers between accounts. To do that, you must open an online banking account. Once the bank activates the account, you enter your bank account number and confirm your personal information to get started. You'll need to create a username and password.
Your bank may allow you to transfer between accounts, even if the accounts each have a separate ATM or debit card. After your account is established, log in and look for the option"transfer funds." Select the account from which you wish to transfer and the account that will receive the funds. Enter the amount for transfer and confirm. You should see a message appear notifying you that the transfer was successful.
Transfers between accounts held by the same bank can be immediate or scheduled for a particular date. Certain banks provide the option to transfer funds to a different bank, but the transfer can take around three to four business days.