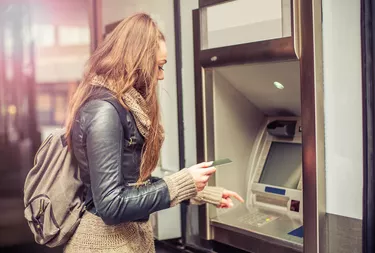 Having money is one thing, but having it in the right place at the right time is quite another. When you have multiple bank accounts, knowing when and how to transfer money between accounts can help you cut down on stress in the money logistics department. Not all debit cards offer the ability to transfer money at the ATM, but some do. Knowing how to access this ATM feature or find alternatives can help you set yourself up for financial success.
Linked Accounts and ATM Transfers
In order to transfer money between accounts at an ATM, the bank accounts you want to transfer between must be linked to your ATM or debit card. If you are not sure whether your cards are linked, give the customer service center of your bank a call and ask. When your accounts are not linked, they might be able to help you set that up or suggest alternative financial products to help solve your problem.
Even if your debit or ATM card is linked to the accounts you want to transfer money between, you might not be able to perform this function at all ATMs. Most bank websites offer a search function that will allow you to find ATMs near you.
For instance, U.S. Bank offers a search function that prompts you to enter your location or select your state. You can choose to look for branches, ATMs or both. The search results list the ATMs closest to you first, for your convenience.
ATMs allow you to insert one card at a time, so there is no way to transfer funds between one ATM card and another. There is a workaround for this, but it could require a little patience. If you are at an ATM where you can make deposits to your bank account, you can withdraw money using one debit card and then deposit it into your account using your other debit card. Depending on the bank's policies, you could be required to wait a couple of business days before those funds become available.
If the accounts you need to access are all linked onto one debit card, it should be fairly simple for you to transfer funds between accounts. Simply insert or swipe your debit card at the ATM. When the screen prompts you to choose an action, simply select the option to transfer funds. You will be able to select which account you are transferring from and which account you are transferring to, as well as the amount you would like to transfer.
ATM Transfer Alternatives: Bank Apps
While you could transfer money between accounts at an ATM, many banks offer more convenient options on their websites and apps. For instance, the Wells Fargo website allows customers to transfer between Wells Fargo accounts, as well as accounts at other banks. SunTrust offers a mobile app that allows transfers between accounts right from the convenience of any mobile device.
While transferring money between accounts at the same financial institution is usually free of charge, keep in mind that fees could apply when transferring money to accounts at outside institutions.
In addition to bank apps, there are several money transfer apps on the market that can help you conveniently transfer funds, as well as send payments to others. According to Investopedia, the best money sending apps of 2021 include:
PayPal
WorldRemit
CashApp
Venmo
Facebook Pay
Zelle
Each of these apps has its own strengths, with some offering global transfers and others offering low fees, so they might address your financial needs in different ways than ATM transfers or bank apps.