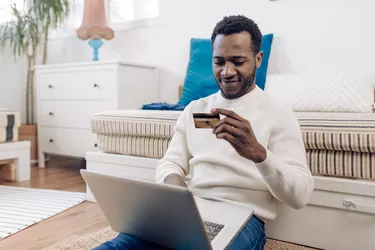 Chase is one of the largest banks in the United States, and it is known both for its reward programs and wide array of online transaction options. Chase allows you to transfer money between accounts, send money to another person and complete other transactions using automated clearing house (ACH) methods.
Transfer Money Between Chase Accounts
With Chase, it's easy to transfer money to another person. This is one reason it's one of the best banks for college students. In fact, thanks to the ease with which you can add money to a Chase account from a debit card or do a Chase ACH transfer, it's a good bank to work with for many individuals and businesses.
Chase also offers a number of different types of accounts: online checking and savings accounts, credit cards, financial investments and mortgage/home equity accounts. While some people use Chase for all of their banking needs, others use Chase for credit card transactions and bank elsewhere. In those cases, it's important to understand how to transfer money from other accounts into your Chase account.
According to Chase, if you have a number of different accounts through Chase, you can easily transfer between them using online banking or through the Chase mobile app. Sign in to your account, then access the menu (which should be in the upper left hand corner) and choose "account transfer," then "schedule transfer." Select the accounts you wish to take money from and transfer money into, then enter the amount to transfer and the date you would like the transaction to take place. If you want, you may also schedule recurring transfers. Once all the appropriate information has been entered, select "transfer" and confirm the transaction. Everything else will happen automatically on the day you have selected.
Transfer Money from Another Bank Account
You may also move money from an existing bank account into a Chase account using an ACH transfer. Sign in to your account, then access the "pay and transfer" tab or menu selection and choose "external accounts." In order to create a link to an external account, you'll need the routing number and account number of the account. These numbers should be available online through your bank's website. You may also find them at the bottom of a check linked to that account. Enter this information into the app or website, then continue.
Two options will be available to verify that the account connection is accurate. If you give Chase the login and password to your bank account, Chase can log in directly to access the money. Alternately, you may allow Chase to make two small deposits into your account, then verify in the app or on the website what each deposit was. Chase then withdraws the deposits from your account, which may take a few business days.
Once your external account is set up, you can set up a one-time or repeating transfer from one account to another. Chase doesn't charge for ACH transactions, but the bank holding your external account might, so make sure you understand the associated costs.
Additional Transfer Types
Chase also allows wire transfers, which usually cost a fee but happen instantaneously both within the United States and internationally. The cost of sending or receiving a wire transfer will depend on the kind of account you have with Chase, but wire transfers between Chase accounts are usually free if you need to send money to another individual who also has Chase account.
Finally, if you want to transfer money from an account that has checks, or if you've been given a check, you may use the Chase app on your mobile phone to deposit it. According to Forbes Advisor, mobile check deposit is just as secure as other online and in-person bank transactions. The app will have you take a clear photo of the front and back of the check after it's been signed – the money should appear in your account within a few business days.