If you have money in a TD Ameritrade brokerage account, there are a few ways to get it out of the account. You can write checks on the account, digitally transfer funds to another account or even spend your money using a linked debit card, similar to a checking account. You can also ask TD Ameritrade to wire the money to another institution. You have similar options for putting money into your TD Ameritrade account.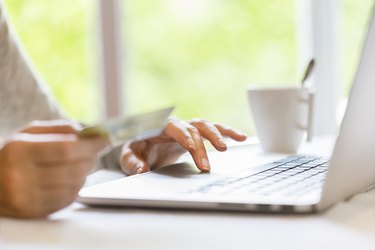 TD Ameritrade Cash Services
If you have cash in your TD Ameritrade brokerage account, you can spend and transfer it in many of the same ways you use a checking account. That includes writing checks using the balance in your account, with no charge for check writing and free orders of blocks of 100 checks. TD Ameritrade also provides free online bill pay services to pay your regular bills with money from your account. You can also connect a debit card to the account and use Apple Pay in places that accept it.
On TD Ameritrade's website transfer funds to another account you have within TD Ameritrade or withdraw money altogether. The most you can normally withdraw electronically in a seven-day period is $100,000.
Other Transfers
You can ask TD Ameritrade to wire funds from your account to another financial institution or to let you withdraw funds via a check. If you're wiring funds, you may need to submit paperwork to TD Ameritrade and at the institution where you're transferring the money.
Adding More Money
Alternatively, to add more money to a TD America account, you can transfer funds from another account or deposit a check using TD Ameritrade's app on a smartphone or tablet. You can also mail a check to TD Ameritrade providing it meets the brokerage's requirements, or ask another financial institution to wire funds to your account. The institution sending the wire might charge a fee for this service.
You can also deposit stock certificates into your account for shares that you already own or ask another brokerage to transfer stocks, bonds and other assets into your TD Ameritrade account. The other brokerage might charge a fee to do this. As with a bank account, funds might be temporarily placed on hold after you deposit them with TD Ameritrade, so you may not be able to withdraw your money as soon as it is received.