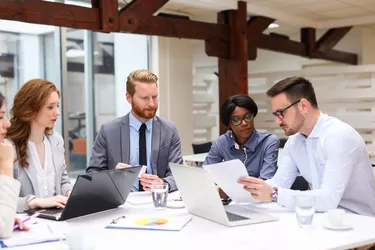 ETRADE was founded back in 1982 and was one of the very first online brokerages in the U.S. Customers can access company services online, by phone, email and in-person at any one of their ​**30 different ETRADE offices*​. These days, most clients carry out the transactions on computers and phones, but it is still good to know that there are brick-and-mortar ETRADE locations out there.
The E*TRADE branch locator lists all of these offices, but the top of the page notes that all of them are closed temporarily because of COVID-19. However, branch associates can still be reached by phone. There are eight California ETRADE offices: Brentwood, Costa Mesa, Cupertino, La Jola, Palo Alto, Roseville, San Francisco and Torrance. The three Florida ETRADE locations are in Orlando, Fort Lauderdale and Tampa. You can also find three in New York – in Garden City, on 42nd Street and in Rockefeller Plaza in New York City and in Scarsdale.
There are also two E*TRADE offices in Texas; these are in Dallas and Houston. Additional locations include Scottsdale, Arizona; Denver; Washington, D.C.; Atlanta; Boston and Chicago. The remaining offices are in Farmington Hills, Michigan; Edina, Minnesota; Morristown, New Jersey; Charlotte, North Carolina; Portland, Oregon; King of Prussia, Pennsylvania and Seattle, Washington.
What Does E*TRADE Charge for Services?
ETRADE offers a flat rate ​*$0 fee​ for all trades that do not use brokers. Regarding broker-assisted trades, there is a ​$25 fee​ tacked on to orders; when trading is done before and after market hours, an additional electronic communication network (ECN) ​fee of $.005​ is added to each share. They also charge ​$6.95**​ for buying OTCBB/Pink Sheet stocks and penny stock trades.
ETRADE also handles mutual funds, and you will pay ​*$19.99 per trade​ plus additional fees when applicable. For options trades, they charge ​$0 + $.65 per contract,​ but this decreases to ​$0 + $.50 per contract​ when you make ​30 or more**​ trades per quarter. Other percentages and fees are also charged, depending on the services you use.
Business Insider explains that ETRADE works well for people who trade often but cannot afford to pay high commissions or meet high minimum account sizes. It offers ​around 10,000​ mutual funds and ​over 4,000​ of these are no-load. ETRADE also has a robo-adviser platform that can help advise people who have as little as ​$500​ to invest. Customers can buy and sell stocks, options, bonds, mutual funds and other products and can learn as they go.
What Else Does E*TRADE Offer?
Aside from offering brokerage accounts, ETRADE offers bank accounts and IRAs. Their ETRADE checking account is FDIC insured ​up to​ ​$250,000,​ requires no minimum balance or opening deposit and has no monthly account fees. It also features online bill pay, unlimited check and debit transactions and ​0 percent APY​. Their Max-Rate Checking has a ​0.05 percent APY,​ and account holders must maintain an average ​$5,000 monthly balance​ to avoid a ​$15 fee​.
ETRADE's premium savings account is FDIC-insured ​up to $1,250,000,​ with a ​0.05 percent APY​. It also does not require minimum opening deposits or balances. You can use it for real-time money transfers with your ETRADE accounts and, as with the checking accounts, it features an award-winning mobile app. You can also choose from three kinds of IRAs – traditional, Roth and rollover.