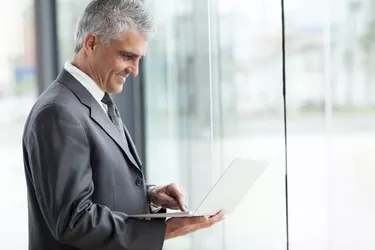 Based in New York, E-Trade offers online brokerage and wide ranging retail financial services. The NASDAQ-listed company has 30 branches spread across the country. E-Trade uses e-commerce systems and a professional workforce located in branch locations to offer retail financial services to investors. Eligible investors can choose among several types of accounts. The company offers investors free specialist research, charts, real-time quotes and stock screeners.
Account Opening Process
It typically takes less than 15 minutes to open an E-Trade account online. You must be a U.S. citizen or resident and at least 18 years old to be eligible. Fill out an online application form providing the name and address of your employer, address of your current residence, Social Security number and date of birth. According to information published on the E-Trade website, the company reserves the rights to verify your identity information through third parties, and, if necessary, request additional identification documents such as a driver's license. E-Trade sends a confirmation email and login instructions for an approved account.
Account Fees and Initial Deposit Requirements
E-Trade offers investing and trading accounts, retirement and education savings accounts and E-Trade checking accounts. Ordinary investing and trading accounts cost $9.99 to open as of 2014, while Plus Pro Elite investment accounts cost between $7.99 and $9.99. You need a $500 initial deposit to open individual, custodial or joint brokerage accounts as of 2014. Futures trading and forex trading accounts require $10,000 and $2,000 initial deposits, respectively. The E-Trade One Stop Rollover IRA requires a $25,000 minimum deposit, while the other retirement and education savings accounts -- that is, rollover, traditional and Roth IRAs -- don't require minimum deposits. You only need a $100 initial deposit to open an E-Trade checking account.
Commencing Account Transactions
To begin trading on E-Trade, login to your account and click on the "Fund Account" tab. Use the drop-down menu to navigate through the funding process. Fund your account using free quick transfer, wire transfer, account transfer or check by mail. Funds for mailed checks are loaded within five days of receiving the check. Funds for free quick transfers are loaded within three days, while funds for wire transfers are loaded the same business day. The account transfer function lets you move cash or investments from other financial institutions. To begin trading, click on the "Place Trade" tab to access the order entry ticket. Fill out your order type, quantity of shares, stock symbol, price type and term. Submit your order and wait for a trade confirmation message. Download the E-Trade mobile trading app to your phone or tablet and use real-time alerts to monitor your account.
Industry Ratings and Perspectives
Industry analysts and reviewers such as StockBrokers.com and Top Ten Reviews rate E-Trade as one of the best providers of online financial brokerage services. They cite E-Trade's user-friendly navigational, transactional and support features, along with the depth of its research and reliability of its platforms. E-Trade was also ahead of its competitors in the adoption of trading apps for mobile devices. In a review published in the StockBrokers.com website on May 13, 2014, Blain Reinkensmeyer, head of StockBrokers.com's equity broker research and reviews, noted that E-Trade was the only online financial brokerage service that integrated an investor education feature in its apps.