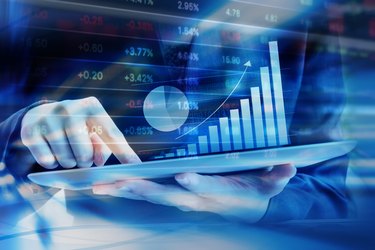 Mickey Mouse, Donald Duck and Snow White helped build a global entertainment brand that has delivered enormous profits to the Disney company and impressive returns to investors over decades. In the spring of 2015, Disney stock -- ticker symbol DIS -- was a leading performer in the stock market. Before buying , however, research the company to ensure that this stock fits your overall investment strategy.
Due Diligence
Investigate company financials and analyst coverage before making a stock buy. The required annual and quarterly filings of Disney and all other publicly traded corporations are available through the SEC's comprehensive EDGAR website. In addition, Disney has an Investor Relations web page that gives financial reports, stock and shareholder information, meeting notices, and a list of investor events. For analysis, visit pages created by Morningstar, CNBC, NASDAQ and Yahoo! Business, among others, that offer important market metrics on the stock -- including earnings growth, price-to-earnings ratio, relative strength, short-sales interest, institutional ownership and dividend history.
Buying Direct
Although Disney stock is available through a broker or via online trading, a popular alternative is direct purchase of the stock via Disney Shareholder Services. Investors must open an account, through which they can sign up for regular share purchases through the Disney Investment Plan. The company charges an enrollment fee of $20, as well as a $1 fee for each monthly automatic withdrawal from your banking account. If you send in a check to buy shares, there's a $7 flat fee, in addition to a purchase trading fee of $.02 per share. The account credits quarterly dividends and allows the sale of securities or withdrawal of cash balances at any time. Further information on direct purchase is available by contacting 1-855-553-4763, the number for Broadridge, the direct-purchase administrator.
Risks and Rewards
Consider this and any other stock purchases in light of your own financial situation and tolerance for risk. Stocks rise and fall on a daily basis, and unexpected news and events can affect the market values of companies no matter how strong their past performance or future outlook. Instead of allowing money to ride on the fortunes of a single company, you can diversify by investing in mutual funds or exchange-traded funds, which represent a basket of stocks organized by theme, business sector, location, company size, or relative risk. The Consumer Discretionary Select Sector ETF, for example, held a 7.38% weighting in Disney as of June 2015. The ETFdb.com web site carries a helpful listing of funds that hold significant Disney stakes.