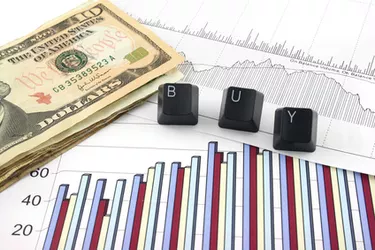 E-Trade is a tremendous tool for buying and selling stocks independently, without using a broker. However, you have to be diligent about monitoring the performance of the stocks in which you invest and the money in your account. You'll also need to learn how to deposit money into your account and then transfer funds back to your bank account. There are several other types of transactions you might need to conduct, as well. Fully understanding these processes will allow you to get the most out of using your E-Trade account.
E-Trade Deposit Time and More
The easiest way to deposit money into your E-Trade account is by doing so via their website or smartphone app. You will need to have an E-Trade brokerage account that is active and in good standing. As long as you do, log in to your account. Since such an account uses your Social Security number, it will only allow you to have one account at a time. On your account home screen, select "Transfer In."
The first time you deposit money, you'll need to enter your bank account information, including the routing number and whole account number. You will have the option to save this account, so you don't have to re-enter it for future transactions.
Next, enter the amount of money you want to transfer and the transfer date you'd like. Keep in mind that most deposits, especially initial deposits, take some time to clear. E-Trade deposit times can be as many as three business days. E-Trade also has a limit on how much money you can deposit every day, but it is very high. The E-Trade wire transfer limit is ​$100,000​ each day.
Other Ways to Deposit Money on E-Trade
There are a couple of other ways to deposit money on E-Trade. First, you can mail them a check. Write out the check to E-Trade Clearing LLC. Be sure to note the amount of money you want to deposit into your account. Before you send the check, verify that you have written your E-Trade account number on the check clearly.
Next, mail the check to the address below. You may want to enclose a note that has your name, phone number and account number on it as well, just in case.
Address: E-Trade Clearing LLC
Merrifield, VA 22116-1542
If you prefer, you can call your banking institution and initiate an electronic funds transfer that way. You will need your E-Trade account number, and your bank will probably ask you a series of identifying questions over the phone. You might also need the address above and E-Trade's ABA routing number: ​056073573​.
E-Trade Cash Available for Investment
Your cash available for investment on E-Trade may not reflect your deposits, sales and other transactions right away. Besides the amount of time it can take for a wire transfer to go through, other things will impact your balance.
After you begin trading on E-Trade, you may not need to deposit money frequently if you're an active trader. Once you sell a stock or security, money will remain in your E-Trade account until you direct it to transfer back to your banking institution (and there is a verification process for that as well). However, you can leave the money in your E-Trade account and use it to buy new securities or stocks when you're ready.
Sometimes, E-Trade funds might also be on hold. If you've conducted recent trades, including sales, it takes time for the money to appear in your account.