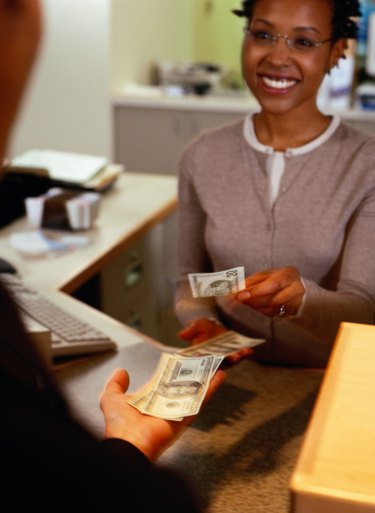 When you a receive a benefits check from the Social Security Administration, every dime counts. Paying high check cashing fees at banks and check cashing agencies will quickly add up. You have several options available that will allow you to cash your Social Security check for free. Depending upon the option you choose, you may be able to cash your check without leaving the comfort of your home.
Step 1
Cash your Social Security check at a local bank that you have an account with. If you don't have an account with a local bank, visit a local bank to apply for one. This can be a checking account or a savings account. As a courtesy, most banks will not charge current customers a fee to cash Social Security checks.
Step 2
Request to receive your Social Security check through the Federal Government's "Go Direct" program if your bank does charge a fee to cash Social Security checks. You can sign up for the Go Direct program through the Go Direct website or by calling 800-333-1795. In order to sign up, you need your Social Security number, the 12 digit check number from your last check, your name, address, benefit amount, bank account number and bank routing number.
Step 3
Sign up for the "Direct Express Debit MasterCard" if you do not have a bank account. This a prepaid debit card issued by the United States Government to benefit recipients. To sign up, visit the U.S. Direct Express website, call the Card Enrollment Center at 877-212-9991 or mail an application (see Resources). You will receive your Direct Express card in the mail within 14 business days from the date your application is processed.
Step 4
Apply for a third party prepaid debit card that allows you to receive a direct deposit of your Social Security check. It is easy to qualify for a third party prepaid debit card, since no credit check is required. Obtain your account number and bank routing number from the card issuer. Follow the procedure in step 2 to sign up for direct deposit. You may also set up your direct deposit by completing "Standard Form 1199A"and taking or mailing it to your local Social Security office.