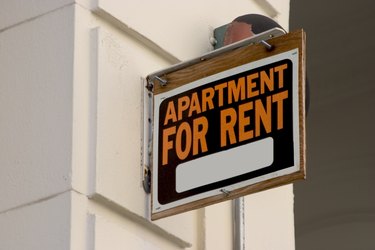 The country's most expensive areas offer cheap rental opportunities if you know where to look. Renters willing to make the move out of town for inexpensive housing opportunities can find rentals of the same or better quality than high- or moderately priced areas. Renters willing to work in exchange for housing can even live free-rent. The most common way to find inexpensive rental housing is by living with roommates. Whatever path you take to low- or rent-free living requires some type of compromise on your part.
If You're Willing to Make the Move
Renters with the flexibility to move anywhere have the best chance of finding low rents. Identify the cheapest areas to rent by researching data online. Search for the counties in your state -- or out-of-state -- with the lowest average or median rental prices:
MyApartmentMap.com lists average rents by state, providing a starting point for your cheap rental search.

Zillow lists state and city median rent prices. Choose the "Local" tab on Zillow's homepage to arrive at the "House Values" page. Type in a state, city, zip or neighborhood to obtain home sale and rental data.
Trulia has an interactive, color-coded "U.S. Heat Map" that shows median rental prices per bedroom. Select the "Rental Price" option on the left side of the page and hone in on the light- to dark-green areas of the map, which represent the lowest rents in the country, per bedroom.
Work-for-Rent Opportunities
A home-sharing program can connect you with homeowners who need day-to-day help around the house, such as the elderly. In exchange for a set number of work hours per week, you can get a free or low-cost bedroom and share household amenities, such as the kitchen, a bathroom and laundry room, with the resident. Home-sharing programs aren't available in all locations and each program has different requirements.
A property caretaker or house-sitter can also live rent-free on a variety of properties, from farms to vacation homes in tourist areas. You can find free-rent jobs on employment-search websites such as Indeed.com and SimplyHired.com. Just input keywords, such as "rent free exchange" and "free rent" in the website's search engine box.
Divide the Rent With Roommates
Rooming with others offers the most opportunities and is the most typical way to save money on housing. You can either obtain a rental with one or more roommates, move in with an established homeowner or renter who seeks a boarder, or if you've already got a rental, reduce or eliminate your part of the rent by taking on boarders or roommates. Place or search roommate wanted advertisements on free and paid rental advertising websites in the area you desire.
Get the Agreement in Writing
Although oral rental agreements can be enforced in most states, help safeguard your housing and legal interests by putting your living arrangement in writing. A written rental agreement outlines your specific duties and costs, even when you don't pay rent. For example, an agreement states the scope of your responsibilities, the rental period and any household bills you must pay in a work-for-rent situation.