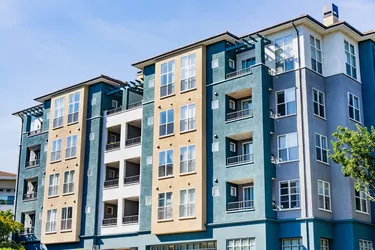 With home costs and rent prices skyrocketing over the past few years, many find that they cannot afford the homes of their dreams. All is not lost, though, because it is possible to find rent-for-work jobs, apartment jobs with free rent and affordable low-cost housing programs. How does one get started with this, though?
Government-Sponsored Homebuyer Programs
The writers at USA.gov explain that the Department of Housing and Urban Development (HUD) and certain other federal agencies sponsor programs that help people buy homes if they qualify. Some of these include FHA loans for first-time homebuyers, the Native American Direct Loan program and the Department of Veterans Affairs home loan programs for active duty service members and veterans.
The Department of Agriculture's Local Rural Development offices help with single-family housing programs for individuals living in rural areas. State HUD offices and state housing finance agencies offer assistance with unique programs they administer. You can also get in touch with your local Public Housing Agency to learn about homeownership vouchers, which they give to people who have low income and those living in public housing. Another option is to search for foreclosed homes; these sell for less than regular listings, and real estate agents can provide details about these.
Jobs in Exchange for Housing
You might be surprised to see how many places offer jobs in exchange for housing; if you look on online job boards, they usually have well over 100 of these rent exchange programs posted at any given time. Examples include a live-in position for a housekeeper and cook in Bloomington, Indiana. For this one, the living quarters feature an entire downstairs suite in a non-smoking home. Another one in South Carolina is for a groundskeeper. Responsibilities include maintaining all the apartments on the property and some work on the exterior grounds.
Other jobs that might provide rent-free or low-cost housing might be a park ranger, a building manager, an overnight security guard, a seasonal resort or hotel worker or a live-in caregiver. The same online job boards, including Indeed and ZipRecruiter, also list these kinds of positions. Make sure to go over the job description with a fine-toothed comb to see if the responsibilities are in line with your skills and seem like a fair exchange for what you are getting in return.
Farm Work in Exchange for Room and Board
If you seek something more temporary or seasonal, it is easy to find farm work in exchange for room and board. Many individuals find this sort of work exceptionally rewarding. You can find opportunities for these jobs on many different websites that provide both domestic and international work. For example, you could find work at a historic Vermont homestead for workers interested in farm upkeep and things like beekeeping and maple sugaring. Maybe Vermont isn't your ideal temperature range; then, you could find an opportunity to work somewhere like Hawaii, helping the grow coffee, macadamia nuts and fruit on a farm.
If you're more interested in international work, many sites online offer opportunities that can be rewarding and exciting. For example, you could work in the Sichuan province of China on a family-owned farm. This work exchange program asks volunteers to help with harvesting, feeding animals, cleaning and landscaping in exchange for free accommodations, meals and access to the farm's swimming pool. If you'd rather go to Europe, you could work in a place like Cornwall, England, at an organic farm community and housing co-operative. Workers can stay in the main farmhouse or the visitor's barn in a setting like this.
Of course, not everyone wants to travel that far to get free rent, so if these kinds of work exchanges aren't for you, it'd be better to stick closer to home with a domestic rent-free arrangement.