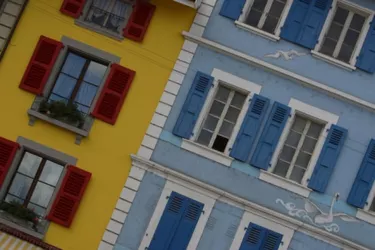 Seniors living on a limited income frequently need help finding affordable housing. Although programs can differ in specific eligibility requirements, generally, housing costs for subsidized programs do not exceed 30 percent of a senior's monthly household income. Costs include rent and utilities. There are several different affordable housing options available for seniors who qualify.
Public Housing
Public housing is meant for low-income families and individuals. The local housing authority bases an applicant's eligibility on income and whether you qualify as elderly or disabled. You must also be a U.S. citizen or legal immigrant. Public housing developments in many metropolitan areas offer senior buildings. To qualify to live in a senior building usually you, your spouse and any other household members must be at least 62 years old. Your household income must not exceed the limits established by the public housing authority managing that area.
Subsidized Senior Apartments
Subsidized senior apartments rent to low-income seniors. The rent for these apartments is less than the average rent. Income limits for subsidized senior housing can differ depending on the area in which you are applying for housing assistance. It's not uncommon to qualify for public housing in one community but not in a neighboring community. The Department of Housing and Urban Development guidelines set the lower-income limits at 80 percent of the median income for the county or urban area where you apply. HUD establishes very low-income limits at 50 percent of the median income for the area. The housing authority looks at your annual gross income after any deductions. Some of the allowances subtracted from annual income include an elderly family allowance, deductions for dependents and allowable medical deductions.
Housing Choice Voucher Program
The Housing Choice Voucher Program provides housing assistance to the elderly, disabled and low-income families. Rather than renting units located in a subsidized housing development, elderly individuals and couples are free to find a housing unit that the owner agrees to rent under the program. The unit must meet minimum standards of health and safety as set by the local public housing agency. Under the program, the housing authority pays a rent subsidy to the landlord. The tenant is responsible for paying the difference between the actual rent the landlord charges and the amount the program subsidizes. Although the housing authority determines an applicant's eligibility based on total gross annual income and family size, in most cases, household income may not exceed 50 percent of the median income for the county or metropolitan area where an applicant applies for housing.
Privately Subsidized Senior Housing
Privately subsidized housing units are rental properties owned and managed by private owners rather than a government entity. However, the funding to operate these housing developments or high-rise apartments can come in part from government programs. Federal, state and municipal governments help fund and regulate rent subsidy programs, typically in the form of grants. Once HUD approves a rental property, the landlord can rent to low-income seniors who meet the eligibility guidelines. Seniors can then apply for housing directly through the landlord or rental agency. The income limits for housing assistance for low-income seniors vary by state. Age is another eligibility requirement. In general, age restricted apartments for seniors set a minimum age requirement at 55+ or 62+ years of age. At least one person living in the home must meet the age requirement.