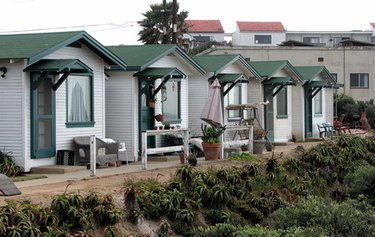 The U.S. Department of Housing and Urban Development funds low-income housing programs across the country. Public housing facilities provide tenants with rental subsidies for their units. HUD's Section 8 Housing Choice Voucher Program allows a renter to choose any rental unit to live in since it does not tie the subsidy to the unit. To qualify for help, the family must meet low income limit levels. Local housing authorities administer these programs.
Area Median Income & Income Limit Level
The area median income, or AMI, determines the income limits levels for each county in the U.S. The AMI is the middle range of incomes of all households in a given area. The low-income limit level is 80 percent of the AMI. Some low-income housing facilities must give a priority to households in the extremely-low income limit level, or 30 percent AMI. Rules admit extremely-low income limit families to the program before those with higher incomes.
Fair Market Rent
HUD annually determines a fair market rent, or FMR for each county based on the mid-range of rental rates. Public housing cannot charge higher than the established FMR for that area. A large unit will have a higher FMR than a smaller one. The HUD website has the latest FMR for your area. Those with Section 8 Housing Choice Vouchers must find rental units that charge rent within the FMR to qualify for subsidies.
Deductions
Before determining the tenant's rent, there are certain deductions depending on the family's composition. For each household member under age 18, there is a dependent deduction of $480. A dependent deduction also exists for family members with disabilities and full-time students over the age of 18. Tenants may also deduct a portion of childcare, unreimbursed medical costs, and disability assistance expenses from household income. Families with an elderly head of household can deduct $400.
Tenant Rent
Every household member over the age of 18 will have his income included when determining the tenant rent amount. The housing administrator will annualize the family's monthly income and subtract the deductions. She will multiply the income by 30 percent, and this will be the tenant's portion of rent. The family pays its part of the rent directly to the property owner. HUD pays the remaining portion.