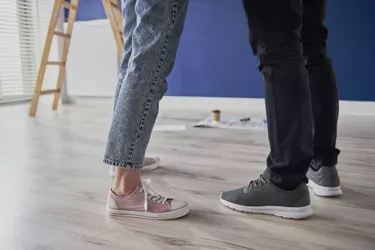 Section 8 is the federal government's Housing Choice Voucher Program, and it's specifically designed for low-income families and individuals. It's overseen by the U.S. Department of Housing and Urban Development.
Decisions regarding eligibility for Section 8 low-income housing are made at the local or state level. HUD simply funds the program. Local public housing agencies or PHAs must deny applications based on some factors, and they have the option to deny applications based on others. None of these reasons include a requirement that you must hold down a job, however.
Section 8 provides vouchers – a form of payment – to property owners on behalf of their tenants. The vouchers pay for housing ranging from apartments to single-family homes. HUD directs federal funding to PHAs to cover the costs of the program.
Residences aren't limited to subsidized housing projects, but they must pass an inspection and meet certain requirements, and the property owner must agree to accept Section 8 vouchers. Eligibility is based on income – you can't have too much – and it doesn't have to be earned income from a job. Income limits depend on family size.
Vouchers won't pay for the entire amount of your rent. Tenants must pay the difference, but the portion that the vouchers do cover is pretty generous. Tenants are typically only required to contribute about 30 percent of their gross incomes, including utility costs, to their monthly housing costs.
Income Limits and Requirements
In most cases, your income can't exceed 50 percent of the median income for the area where you want to live. Some locations are far more expensive than others, so this can affect income eligibility. For example, a single parent and child could earn up to $83,550 annually in Alameda County, California, in 2020 and still be considered "low income." But the low-income threshold in Atlantic County, New Jersey, during the same time period and for the same family size is $53,100.
These are upper limits. A very low-income family might have considerably less income and will receive more in the way of financial assistance. For example, a very low-income family of two in Atlantic County would earn less than $33,200.
PHAs are required by federal law to devote 75 percent of their vouchers to those with very low incomes. This can affect your eligibility if you earn more, so again, not having a job or earnings isn't a detriment.
You would apply for Section 8 assistance regardless of whether you have a job or you don't, but be prepared to provide proof of your income sources. HUD understands that some people are in financial distress because they're unemployed, and it will accept a wide variety of sources of income other than from a job, but you must be able to substantiate it. Acceptable income sources include:
Pensions and other retirement plans
Public assistance and welfare
U.S. veterans' assistance
Alimony and child support
You and any other earning member of your family will have to provide documentation and proof of the nature of your income, and you'll be required to provide information about any assets you own.
Lack of sufficient income to afford housing is the biggest qualifying factor for Section 8, and you must requalify annually. You're also required to immediately report any changes in your family size.
You must meet other rules as well. Qualified applicants must be U.S. citizens or non-citizens who are eligible for immigration. You must not have been evicted from a Section 8 property or public housing due to a drug-related offense in the last three years or due to a serious lease violation. Lifetime registered sex offenders won't qualify.
Having children is not a requirement, however, unless you're a student under the age of 24 who is neither disabled nor a veteran.