When a family receives Section 8 assistance from the U.S. Department of Housing and Urban Development, it can seek a rental throughout an entire city. HUD allows Section 8 recipients to rent apartments, condos or houses as long as the landlord agrees to enter into a Section 8 agreement and the property can pass a HUD Housing Quality Standards inspection. HUD places a limit, albeit indirectly, on how much assistance it will provide.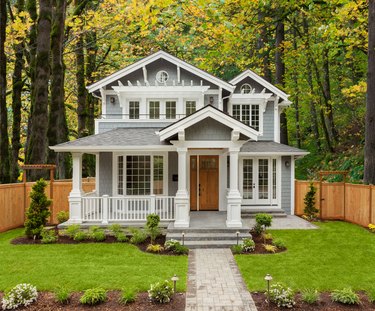 How Section 8 Helps
One of HUD's primary aims via the Section 8 Housing Choice Voucher program is to help deconcentrate poverty and broaden opportunities for low-income families. By giving households more diverse housing options as opposed to limiting them to fixed, low-rent public housing complexes, HUD hopes subsidized renters will choose to locate in neighborhoods with better employment prospects, good schools and more opportunities overall.
Fair Market Rents
Every year, HUD releases its fair market rent figures for metropolitan areas and counties across the nation. HUD refers to these rents as "payment standards" for the Section 8 program. HUD does not consider these numbers hard and fast. Families receiving Section 8 benefits can rent units that cost less or moderately more than the published fair market rent.
How Much is a Family's Share?
Section 8 voucher holders put roughly 30 percent of their monthly income towards rent, as long as they rent a unit at or below HUD's payment standard for their area. If a family chooses to rent a unit where the rent exceeds the payment standard, HUD allows this, however, the agency makes the family responsible for the excess rent. In total, HUD does not permit a family to spend more than 40 percent of its income on housing.
How HUD Works Informational Example
If a Section 8 household earns $1,200 a month and chooses to rent a house at its area's fair market rent or below, it pays, in most cases, approximately $360 a month in rent (30 percent of $1,200). HUD covers the remainder. If, however, the family decides to go above fair market rent, the percentage of income it devotes to housing increases. For instance, HUD's 2018 fair market rent for a two-bedroom in the Bend, Oregon metro area is $965. If a family making $1,200 a month wants to rent a $1,100 two bedroom in Bend, their chunk of the rent increases to $495 ($360 + the $135 above HUD's payment standard). Because $495 equals 41.2 percent of the family's $1,200 income, HUD would not approve this rent using Section 8 assistance.