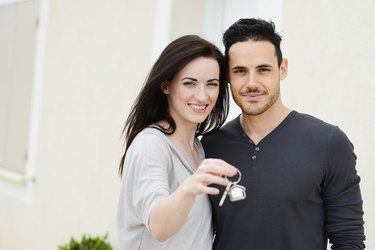 Many landlords participate in the Section 8 housing program because part of the monthly rent payment is virtually guaranteed on-time each month. Section 8, also known as the Housing Choice Voucher program, is funded by the Department of Housing and Urban Development, or HUD. Your local public housing agency oversees the program in your area. Homes must meet HUD standards for safety and sanitation to qualify for Section 8.
Section 8 Rental Prerequisites
Your rental's size must meet the Section 8 tenant's housing needs. Prospective tenants' vouchers state the number of bedrooms needed due to their family size. You must complete a Request for Tenancy Approval form, which you get from your local public housing agency. It requires information such as the house address, monthly rent and any utilities the tenant must cover. The agency conducts a property inspection and may request certain upgrades or repairs, along with a time frame for completion, before you can rent to Section 8 tenants.
Living and Sleeping Area Requirements
Your rental house must consist of a living room, kitchen, bathroom and bedroom. A combination living-sleeping room in addition to a kitchen and a bath also qualifies. The living room and each bedroom must have a window with a screen. All exterior doors in the house must have a secure lock and a screen and bedrooms should have at least two electric outlets. Structural standards, such as a weather-tight roof free of leaks, also apply.
Kitchen and Bath Requirements
Kitchens must have an operational stove or range and a refrigerator of suitable size for the household. A sink with hot and cold running water and a garbage disposal are also required. The kitchen also needs space for food storage and preparation. The bathroom must have a flush toilet, tub or shower and a functional basin. Each kitchen and bath requires a working light fixture and at least two electric outlets. All heating, electrical and plumbing systems must be fully functional and safety hazards, such as broken windows and trip hazards, must be repaired.
Selecting the Tenants
Charge rent comparable to similar rental housing in the area and commit to a one-year or longer lease. After the house passes the inspection, you will sign a contract with the housing agency. You must maintain the house throughout the lease and agree to an annual inspection for re-certification. The housing agency mails you a check or direct deposits funds each month for the Section 8 rent subsidy and tenants pay their portion directly to you. Tenants are expected to pay the rent on time, keep the house in good condition and follow the terms of the lease.