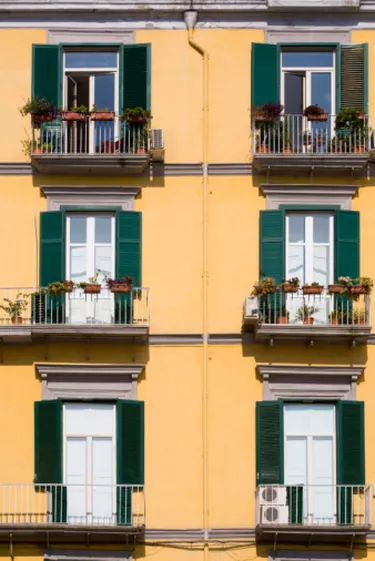 The U.S. Department of Housing and Urban Development (HUD) provides rental subsidies to low-income households. These subsidies allow families to pay 30 percent of their income toward rent. Renters with a Section 8 voucher are allowed to choose conventional housing to live in as long as the property owner accepts a voucher as a form of payment for the rent. The housing authority is responsible for selecting tenants and owners for the Section 8 program. Any property owner can choose to participate in the program as long as he meets HUD's rental property requirements.
Finding a Tenant
Landlords must first locate a renter with a current Section 8 voucher before she can participate in the program. Property owners who want to join the program are encouraged to advertise that they accept Section 8 renters. Once they have found a Section 8 renter and have screened her for suitability, the renter will provide the landlord with a Request For Tenancy Approval. The owner must complete the RFTA and submit it to the public housing authority for processing. Only renters with current Section 8 vouchers can provide an RFTA to the landlord.
Housing Quality Standards
HUD has established Housing Quality Standards that property owners must adhere to prior to being accepted as a Section 8 rental. These standards ensure that low-income families live in safe and decent housing conditions. After the housing authority has processed the RFTA, he will schedule an inspection of the property. The inspector will assess the conditions of 13 aspects of the property, which includes sanitation and food preparation facilities, interior air quality, water supply, smoke detectors, structure and surrounding neighborhood. If the home does not pass inspection the first time, a list of corrections will be provided to the owner. After the owner has corrected the repairs, a second inspection will be scheduled.
Fair Market Rent
Renters with a Section 8 voucher cannot rent a housing unit for which the rental charge is greater than HUD's Fair Market Rent guidelines. The current FMR standard is the 40th percentile of typical rental units occupied by recent movers in a local housing market. The 40th percentile is used as the median price of rentals in a given area. The FMR ensures that Section 8 renters are choosing housing within their means and taxpayer dollars are appropriately expended.
Leasing Activities
Section 8 property owners must provide tenants with a HUD Model Lease. This lease lists the responsibilities of the tenant and HUD for rent payments. The owner must have all household members over the age of 18 sign the lease and attachments. The landlord is allowed to collect a refundable deposit. A move-inspection must be conducted in the presence of the tenant prior to occupancy to document any damages to the unit. The housing authority will also conduct an inspection of the unit on an annual basis, which ensures both parties are maintaining the unit.