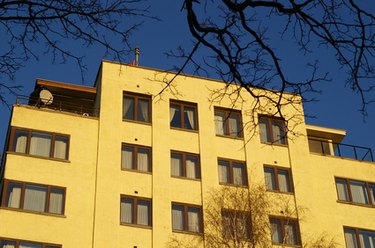 The U.S. Department of Housing and Urban Development, or HUD, provides affordable housing options for renters and homebuyers. Low-income families can get help to pay rent. The rental assistance programs provide a subsidy to the family to make the rent more affordable. The household is responsible for paying 30 percent of its income toward rent, and HUD pays for the remaining portion. HUD also has homebuying programs for qualified homebuyers. The homebuyer must be able to qualify for a mortgage to take advantage of these homebuying programs.
Low-Income Households
HUD's Public Housing and Section 8 Housing Choice Voucher program is for households that meet income eligibility requirements. Households with incomes up to the low-income limit level are eligible to apply for help. HUD requires certain public housing facilities to provide a preference to applicants with income in the extremely low income, or ELI, limit level over those with a higher income. ELI applicants will move to the top of the waiting list and be provided with housing first. Applicants with zero income are eligible to apply for help. When applying for help, the housing authority will require the applicant to submit verification of income.
Seniors and People With Disabilities
Certain public housing facilities are restricted to seniors and people with disabilities. To live in a senior housing community, the applicant must be 62 years of age or older and meet income eligibility requirements. People with disabilities may be required to provide a doctor's note verifying the applicant has a disability if she is requesting an accessible unit. The doctor's note does not have to disclose the nature of the disability, only that one exists.
Eligible Citizens
Most HUD housing programs can only provide rental help to U.S. citizens, and eligible non-citizens. During the application process the housing administrator will verify citizenship with the Department of Homeland Security. HUD will prorate the rental payment to include only the family members who are U.S. citizens, if some members are deemed ineligible. HUD also requires a background screening to be conducted for all housing applicants. If any of the applicants have drug-related criminal activity in their backgrounds or have been required to register as a lifetime sex offender, he will be denied admission.
Teachers, Firemen, Law Enforcement and Emergency Medical Technicians
The Good Neighbor Next Door Program allows qualified professionals to purchase a HUD home at a 50 percent discount. The homebuyer must be a teacher, fireman, law enforcement officer or emergency medical technician to qualify for the program. They are required to purchase the home as their primary place of residence and live there for a minimum of three years to receive the discount. The home must be located in a HUD-designated revitalization area.