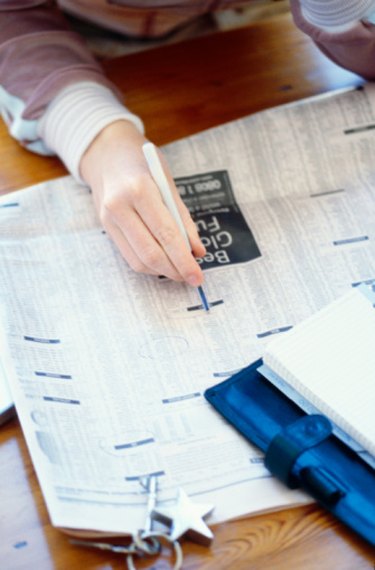 The U.S. Department of Housing and Urban Development (HUD) provides housing grants to those who have experienced a job loss or a decrease in income. Programs are available to both homeowners and renters who need help with housing. To qualify for most of these programs, you will have to provide documentation of income or a financial hardship that is preventing you from paying a monthly rent on your own. Also, single households are eligible to apply for help.
Foreclosure Prevention Programs
Several government agencies have provided funding to help distressed homeowners prevent the foreclosure of their homes. The Making Home Affordable Program helps homeowners who have lost their jobs obtain a forbearance on their mortgage payments. A forbearance temporarily suspends or reduces payments while the homeowner looks for employment. The forbearance period is typically up to three months. The Department of Treasury's Hardest Hit Fund provides mortgage subsidies to homeowners who have experienced a decrease in income. To qualify for a mortgage subsidy, you must be currently eligible to receive unemployment benefits.
Homelessness Prevention and Rapid Re-housing Program
HUD's Homelessness Prevention and Rapid Re-housing Program provides housing grants to homeless families and those at-risk of becoming homeless. If you are unemployed, you do not have to meet minimum income requirements to get help. The family can receive rental and utility assistance for up to 18 months. If you have lost your home to foreclosure or eviction, you can get help to pay for moving expenses and a security deposit to lease another home. You must have a legal lease in place and be able to provide documentation of your financial hardship in order to obtain the grant.
Section 8 Housing Choice Voucher Program
The Section 8 Housing Choice Voucher Program helps low-income families pay for a portion of their rent. This program also does not have a minimum income requirement to receive help. If the head of household is unemployed and has no income, the Section 8 program requires a $25 payment toward rent. HUD pays the remaining portion of the rent. Tenants with Section 8 vouchers are free to choose the housing they want to reside in. To receive help, you must also meet citizenship and criminal background screening requirements.
HUD Public Housing Program
HUD's Public Housing Program is similar to the Section 8 Housing Choice Voucher rental subsidy program. HUD pays for a portion of the tenant's rent. A tenant in public housing has the rent subsidized for as long as she remains in the specific housing unit. Once she moves from public housing, she will no longer have a portion of the rent paid for her. Tenants are required to report changes in income. If you are unemployed and secure a job, you are required to notify HUD of your change in income in order to adjust your portion of the rent. As long as you meet HUD's low-income limit level, you will still to eligible receive a rental subsidy.