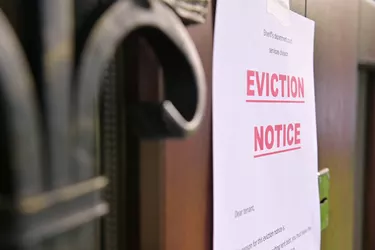 If you're behind on your rent and are facing eviction, here's what you need to do to stop the process and get government help.
How to Stop the Eviction Process
You'll qualify for eviction protection if:
Your income has gone down substantially as a result of being laid off from your job or your wages or work hours have been cut.
You live in a county that is experiencing high rates of COVID-19.
You would have no other place to live and would likely become homeless.
You agree to follow the conditions of your lease unless you have come to an understanding with your landlord for different terms.
You understand you could still be evicted for reasons other than non-payment of rent.
After you complete and sign this CDC declaration, give the original to your landlord or the management company that handles your property. Taking the step will qualify you for eviction protection until October 3, 2021.
Some states and local governments have issued their own regulations regarding evictions. You can visit Eviction Lab to learn if any of these regulations apply to your county.
You must live in a county that has a substantial or high rate of COVID-19 cases. Use this CDC tracker to determine the number of cases in your county.
Even if your landlord has filed an eviction lawsuit against you, all is not lost. You can still take steps to avoid eviction.
Apply for Emergency Rental Assistance
If you have not had an eviction lawsuit filed against you, the next step is to apply to a state or local organization for federal money to cover your rent. These are the organizations that handle the disbursement of the federal funds and will determine if a renter qualifies for assistance. Click on this link to find and apply to a program near you.
After locating your local or state program, find out what documents they require. Get your documents together before making an application. The more documentation you have to make your case that you are experiencing financial hardship, the better. Insufficient documents are the biggest obstacles to getting your application approved.
This is some of the information you'll need to provide:
Proof of your identity
Social Security number
Proof of residence, such as a utility bill or lease
Proof of income
Show how you are experiencing financial hardship as a result of the COVID-19 pandemic
Proof of the amount of back rent you owe. This could be a letter from your landlord or a statement from the management company that is responsible for your household.
If you can't furnish a particular document, ask what substitute you can use.
If an Eviction Lawsuit Has Been Filed
Even if your landlord has filed an eviction lawsuit against you, all is not lost. You can still take steps to avoid eviction.
The first step is to contact a lawyer. You can check LawHelp.org to see if you qualify for free legal help.
If you don't have a lawyer, contact the local court clerk and get answers to the following:
What is the deadline for you to file an answer to the lawsuit that explains to the court why you should not be evicted?.
What is the court date for your hearing?
Can you get more time to apply for rental assistance?
Does the court offer mediation or counselors to help in working out an agreement with your landlord?
After getting this information, you have the right to file an answer to the court on your own, even if you don't have a lawyer. Your answer should explain what you are doing to get help paying your rent. Start by finding the state or local organization in your area that is handling the federal government program for rent assistance and make an application.
Based on your answers, the judge may postpone or dismiss the eviction lawsuit if you can demonstrate that you are using the resources available and are actively trying to get help to pay the back rent.