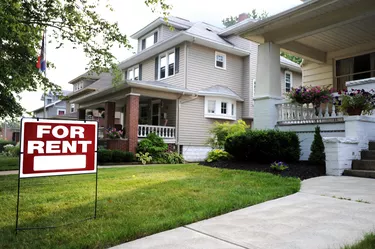 For most families, finding safe and sanitary housing is a priority. The Section 8 Housing Choice Voucher Program allows low-income families, the elderly and disabled to choose a suitable property and pay only a portion of the rent. The Department of Housing and Urban Development funds Section 8 and gives local housing authorities oversight of the application and rental-unit selection process. You can either find approved Section 8 rentals or facilitate approval of a current rental, if it qualifies.
Check Your Housing Voucher
Your Section 8 voucher indicates the number of bedrooms you qualify to rent. The program allows you to rent a single-family detached house, apartment, condominium, town home or duplex in any area within the housing authority's jurisdiction, as long as the landlord agrees to Section 8 terms. The authority decides the appropriate number of bedrooms based on your household size. It pays the difference between the full monthly rent for the unit and your maximum allowed payment. Section 8 recipients pay 30 percent of their gross adjusted income towards rent. They may have to pay 40 percent if the rent exceeds fair market rent limits.
Warning
If you choose a unit that costs more than the housing authority has approved, you are responsible for paying the difference, which cannot exceed 40 percent of your income.
Likewise, should you choose a rental with fewer bedrooms than your voucher allows, the housing authority can re-adjust your rent subsidy, lowering the amount it will pay toward your rent.
Look Online
The housing authority that issues your Section 8 voucher may maintain a list of available rentals on its website. You also can check third-party websites that list Section 8 rentals available nationwide, such as GoSection8 and MyApartmentMap's affordable housing search engine. HUD also maintains a national database of Section 8 rental listings. The databases provide rental-unit details, such as address, number of bedrooms, rent amount and property photos. They also show the landlord or property management company's contact information to set up a viewing and inquire about the application process.
Submit An Application
As a Section 8 voucher holder, you already have passed certain income-qualifying and criminal background checks with the housing authority. However, landlords conduct their own application and screening process of Section 8 applicants, as they would any other tenant. Landlords aren't obligated to rent to a Section 8 tenant, even if the landlord is marketing to voucher holders.
Landlord Must Adhere to Section 8 Rules
You can ask your current landlord to accept your Section 8 voucher. A property owner not yet approved to participate in Section 8 must apply, and the rental unit must pass an inspection. The housing authority inspects the unit before you move in and annually thereafter to ensure the home meets HUD's minimum standards for health and safety. Although a landlord isn't obligated to accept Section 8 tenants, if approved to rent to voucher recipients, the landlord must agree to all program guidelines and sign a contract with the housing authority as well as the tenant. Property owners also may have to adhere to more stringent landlord-tenant rules than are required by state law, such as longer notice periods.