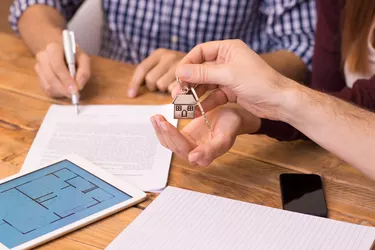 Deciding to rent to a Section 8 tenant is just the first step in participating in the Housing Choice Voucher Program. Section 8 provides the most widely-used mechanism to secure affordable housing. In this program, the Department of Housing and Urban Development, in collaboration with local, state and nonprofit housing organizations, subsidizes a portion of the rent for qualified participants. Tenants pay only a fraction of the rent, not to exceed 30 percent or 40 percent of their income. Landlords must apply with the housing authority and the rental must pass an inspection to participate in the program.
Advertise for Free
The local housing authority can help you advertise for free once it approves you for the program. Find your area's housing authority by searching the HUD database of public housing authorities. You can target voucher holders by posting your rental vacancy on the housing authority's website. Most authorities maintain a database that tenants can search for free. You can also list your rental on third-party websites, such as GoSection8.com, or call for help finding a rental or SocialServe.com. Third-party listing services may require a registration process and fee for landlords. You also can advertise your Section 8 rental by traditional means, such as circulars, print ads and flyers within the community.
Tenants Apply Directly
Section 8 tenants contact you directly to set up a viewing and complete an application. They will already have undergone an income-qualification process and criminal background check with the housing authority. The authority that issues the voucher verifies employment, household composition, Social Security information and legal residency. Section 8 voucher holders also have been briefed on how the rental process works and the program guidelines. However, you are still responsible for screening applicants independently, just as you would any prospective tenant. You supply a separate rental application, collect personal and financial documentation for your records and go over lease agreement terms with new tenants.
Finalizing With the Housing Authority
Once you've identified a Section 8 tenant to fill your vacancy, complete a Request for Tenancy Approval form. Submit the form, along with the lease agreement, to the Section 8 tenant's housing authority. It reviews and approves the tenancy and schedules an inspection of the rental. The authority may inspect multiple times before move-in to ensure you have completed all required repairs. The authority may provide you with a pre-inspection checklist, which allows you to fix items before the formal inspection.
Warning
Landlords may be held to stricter standards than required by state law. Ensure you understand all Section 8 provisions before accepting a tenant and continue to follow program rules throughout the tenancy.