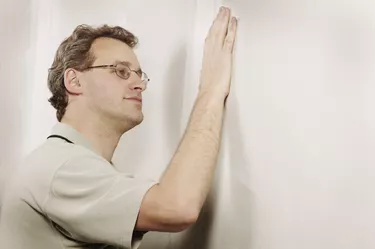 Whether you're buying a new home or moving into a rental, conduct a property inspection walkthrough. The purpose of this pre move-in inspection is to make sure the property is safe, the appliances and other systems are in working order, and that the home meets the criteria of your purchase contract or lease. You'll need a checklist, notes and possibly photos or video to keep track of what you see. A walkthrough is a must, but it should not take the place of a professional home inspection when buying a home.
Where to Find A Checklist
Download a walk-through checklist or create your own. Your real estate agent or landlord may also provide one. However, it's still a good idea to have your own list to supplement items not listed on theirs. If you're buying the property, the inspection is that much more critical, as any problems that arise will be yours. The U.S. Department of Housing and Urban Development has a free comprehensive walkthrough checklist for buyers or renters. Renters can also find a list at Checklist.com.
Features of A Thorough List
A checklist should divide the property by rooms, along with key components you need to check in each room. There should be a section for the living room, kitchen, bathrooms, bedrooms, areas like patios and garages, and any exterior or additional structures. There should be space allotted on the list to note the general condition of the room, hazards, working order and security of features such as windows and gates.
Major Systems
A walkthrough includes checking all major systems in the property, including heating, ventilation and air conditioning units, plumbing, electrical systems, sewage or septic systems and overall structural soundness. Renters of newer properties should also check features such as Wi-Fi capability or Internet connectivity speeds if such features are offered in the lease. Homes may also have water softening systems and solar paneling, which require final inspection, as well.
A Buyer's Perspective
A homebuyer's final walk-through inspection may be more involved than a renter's move-in inspection. A final walkthrough requires you to confirm the home's cleanliness and that any repairs that were originally agreed upon, have been made. You should also confirm that the home has all features, such as appliances, fixtures and any furnishings that were stipulated in the purchase contract. It is the buyer's opportunity to make sure the home is in acceptable condition before closing.