You might be eligible for an income-based, government-subsidized apartment if you meet certain income criteria. The U.S. Department of Housing and Urban Development, or HUD, has contracts with some apartment owners through the Section 8 program to lower rental rates for residents whose income, as of August 2012, does not exceed 65 percent of the average income in their area. According to Section 215 of the National Affordable Housing Act, the rental rate must not exceed 30 percent of your household's monthly adjusted gross income. Additional restrictions may apply depending on your state and number of household members. HUD maintains a list of low-income apartments on its website.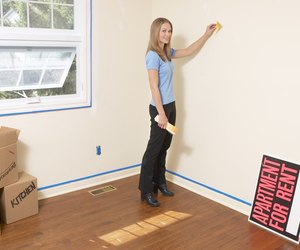 credit: Hemera Technologies/AbleStock.com/Getty Images
Step
Visit the HUD homepage (hud.gov) and click the "Search for an Affordable Apartment" link midway down the page under the "I Want To" section on the left.
Step
Select the state in which you live from the drop-down list on the page and click the "Next" button.
Step
Complete the Affordable Apartment Search form. Select the city, county or ZIP code from the appropriate drop-down list. If you know the name of a specific apartment property you wish to inquire about, type it in the text box labeled "Enter the Name of Property."
Step
Choose the type of apartment you need from the drop-down list under "Specify the Apartment Type," such as "Disabled," "Elderly," "Family" or "Health Care."
Step
Place a check mark next to the number of bedrooms you need and click the "Next" button to continue.
Step
Browse through the search results. If you receive a message stating that no properties met your criteria, click the "Please Try Again" link to go back and revise your criteria. If you searched via city the first time, try searching by another city or by county, for example.
Step
Make note of any apartments you wish to inquire about. The website provides information including community name, address, phone number and program contact details. Some listings offer an email address.
Step
Call the number or email the address listed in the "Contact" field next to the property you are interested in to gain more details, such as availability, income restrictions, requirements and current rental rates.