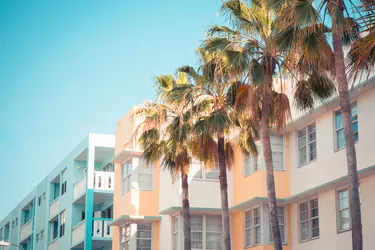 Florida residents who meet Section 8 housing eligibility requirements can apply for the subsidized-housing program through one of the state's public housing agencies or authorities. Section 8, or the Housing Choice Voucher Program, pays a portion or all of the rent for participants who live in approved properties. Although the U.S. Department of Housing and Urban Development, or HUD, funds and regulates the Section 8 program, local agencies, such as the Orlando Housing Authority, administer the program.
Florida Eligibility Requirements
Section 8 housing is for individuals and families. To apply, you must have a physical address and be age 18 or older. Florida's Section 8 requirements include the applicant and all adults in the family to pass background checks.
You must provide Social Security numbers and information about citizenship status and proof of income for all family members.
You might have to meet additional eligibility requirements if you qualify for special Section 8 programs. For instance, the Orlando Housing Authority participates in the Section 8 Moving to Work Demonstration Program and will inform you if you qualify based on your employment.
Per Florida law, you must meet federal Section 8 program annual household income limits.
Florida Income Limits
Florida's local housing authorities use the Section 8 income limits developed by HUD and grouped into categories of low, very low and extra low. Income limits apply to family sizes of one through eight members.
Florida's 2019 income limits, which vary throughout the state, range from $13,650 to $36,450 for a household of one.
The Orlando Housing Authority income limits for a family of four are: low $34,700, very low $25,750 and extra low $55,500.
You can find income limits for your Florida local housing authority on the agency's website or on the HUD website.
How to Apply
Some Florida housing authorities require you to apply for Section 8 housing in person. Others require you to apply online by creating an account to complete and submit an online application. Your local authority might provide a paper application for pick-up or mailing or an online application that you download and print to complete. The Orlando Housing Authority requires creation of an online account and completion of a pre-application form online, after which you are placed on a waiting list. Check your local housing authority website or contact the agency for information about its application process.
Tip
When you visit the local housing authority website, look for Section 8 program announcements, such as a freeze on applications and instructions for applicants who have special needs or disabilities.
Application and Documentation
Gather the required information and documentation before starting the Section 8 application. The Orlando Housing Authority's 31-page application packet requires information such as Social Security numbers and income for all family members.
The application asks for information about information about employment, school enrollment, bank accounts, assets owned and citizenship status.
The housing authority require documentation such as Special Security cards, bank statements, pay statements and birth certificates.
Adult family members must sign release of information forms and authorizations to conduct credit and background checks.
If you complete a paper application, prepare to take it and the documentation to a Section 8 interview. The housing authority will notify you by mail when your name comes up on the waiting list.
Warning
Report address changes to avoid losing your place on the waiting list. Orlando Housing Authority cautions that if the applicant fails to reply to a notice or if the notice is returned in the mail, the applicant can lose his place on the waiting list and might have to resubmit his application.
Florida Housing Authorities
Florida has dozens of county and city housing authorities that administer its Section 8 program throughout the state. The HUD website page, "Florida Housing Authorities on the Web," includes links to the websites where you can find locations and contact information. The "HUD in Florida" page, located on the HUD website, provides links to information about the state's Section 8 program and other HUD programs.