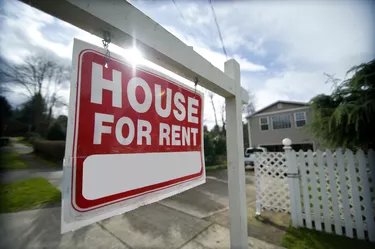 Moving to a new place can be exciting, but it also comes with its share of challenges. Before you take this step, check the requirements to rent a house in that particular area. Most landlords will require a photo ID and proof of income, such as pay stubs or bank statements. If you're renting from a property manager, you may have to file additional paperwork and undergo a background check.
Tip
Most landlords require a photo ID, proof of income, bank statements and references. If you're a non-U.S. resident, you may bring your passport, a copy of Form 1040-NR and other relevant documents, such as your employment contract.
Bring These Documents With You
Renting an apartment or house is sometimes cheaper and more convenient than buying one. Therefore, it's not surprising that more than 65 percent of young adults live in rental properties, as reported by Pew Research Center. But whether you're moving for work, school or personal reasons, it's important to know your obligations. Chances are, prospective landlords will want to see your pay stubs, Social Security number (SSN) and credit report. They may also request a list of references from previous landlords, plus other documents:
Driver's license, passport or state ID
Proof of employment
Bank statements
Vehicle registration number
Rental history
Information about your pet (if applicable)
Recommendations from your employer, colleagues or current landlord
Private landlords are often more flexible than property managers. However, they may still require proof of income or employment, such as your W-2 form, tax returns or work contract. If you're self-employed, bring a copy of Form 1099 and your bank statements for the past five or six months. Generally, landlords want to make sure that you have a steady income or enough savings to cover your living expenses for six to 12 months or longer.
Non-U.S. citizens may bring a copy of Form 1040-NR, their passports and other relevant documents. Note that it's OK to blank out sensitive information (e.g. your gender identity or ethnic background) and highlight relevant details. The Fair Housing Act prohibits landlords and real estate companies from discriminating based on sex, religion, color, race, family status and other criteria, but you never know who you're dealing with.
Requirements to Rent a House
The requirements to rent a house vary from one landlord to another. For example, some landlords will run background checks or request a copy of your resume. Others may require a guarantor or co-signer to make sure they'll get paid in case you lose your income or leave the apartment without notice.
If your application is approved, you'll need to put down a security deposit. About half of U.S. states prohibit landlords from charging more than three-and-a-half months' rent as a deposit, according to InterNations. The state of Kansas, for example, limits this amount to one month's rent for unfurnished houses or one-and-a-half month's rent for furnished units. Tenants with pets may need to pay an additional deposit, explains Kansas Legal Services.
New tenants also need to pay the first month's rent upfront. Some landlords require paying the last month's rent in advance as well. Additional fees may apply if you hire a real estate agent. Given these costs, make sure you have some money put aside. Use the best apartment rental sites, such as Trulia, Zillow or Apartments.com, and research the landlord before sharing your personal information.
Once these steps are completed, you will need to sign a rental agreement. Make sure this document includes the landlord's name and address, the tenancy length, the amount of rent, acceptable payment methods and other relevant information. It should also state the amount of your security deposit and how it's going to be used. Double-check the policies on repairs and maintenance, pet ownership and the landlord's access to the property.
Warning
Never wire money as a security deposit or rental payment, recommends the Federal Trade Commission. Scammers often post fake ads that sound too good to be true and then ask prospective tenants to pay by wire transfer.