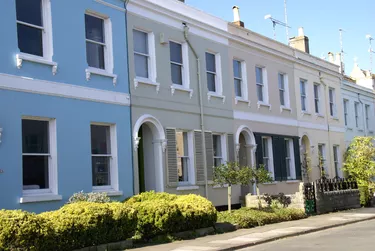 With the variety of property types available for rent, finding the right place to call home is one of the main hurdles tenants face. Many renters like the idea of a single-family home with a yard, but don't want the added cost and responsibility of landscaping. A townhome can provide the best of both worlds. Townhomes tend to look and feel more like detached houses from the inside, offering more ample layouts and space than condominium units or apartments.
Make a Wants and Needs List
Townhomes differ in structure and design, depending on the builder and the community. In some real estate markets, the terms "townhome" and "condo" are used interchangeably. In these markets, you might have to specify that you seek a townhome -- not a condo. Whether you're choosing from a list of property amenities online or discussing them with a real estate professional, list the specific features you both need and want in a townhome unit. Be prepared to yield on certain amenities as the search progresses. Budget constraints or a lack of available townhomes in your local rental market might make it difficult to find the ideal townhome.
Tip
Townhomes are attached by one or more adjacent walls, but unlike condos or apartments, you don't have neighbors above or beneath your unit. Townhome benefits similar to those of a detached single-family house often include:
Modest yard

Private garage

Fireplace

Larger kitchen
Looking Online and Narrowing Your Search
The Internet is a common starting place for any rental search, and rent-search websites abound. You can either subscribe to a rental search for a fee or find rentals for free. Some free websites require you to register. When you do begin your search, you will need to type in more than just the bedroom, bathroom and square footage specifications. To ensure your search returns only townhomes, use a website that allows you to choose "townhome" or "townhouse" as a category. Websites that don't allow you to choose this property type return mixed results, requiring you to sift through many unwanted condo or single-family listings. Websites that provide specific townhome listings include Rent.com, Rentals.com and Homes.com.
Getting A Professional Opinion
Real estate property management companies and brokers can help you find a townhouse rental. Property managers take care of a townhome owner's day-to-day rental responsibilities, such as listing, tenant screening, rent collection and property maintenance. When renting through a private owner's property management company, you may never deal or even meet with the townhome owner.
Real estate brokers and agents show rentals as well as homes for sale. Agents can access the local Multiple Listing Service, or MLS, which contains up-to-date sale and rental profiles. Not all private landlords list their townhome rentals with the local MLS, so the rental inventory may be limited. However, your agent may be able to find rentals on the MLS that aren't advertised anywhere else.
Heed the HOA Rules
Townhomes are often part of developments that include homeowner associations, or HOAs. The HOA can restrict the number or size of residents' pets, or prohibit them altogether. Likewise, an HOA may have a say in who rents within the townhome community, or whether renters are even allowed. Specific rules and regulations are outlined in governing documents known as covenants, conditions and restrictions, or CC&Rs. Ask the townhome owner for a copy of the HOA rules before move-in to ensure you can comply. Breaking any of an HOA's rules can result in hefty fines, which a landlord may pass on to you, and even early termination of your tenancy if the violations are severe or consistent enough.