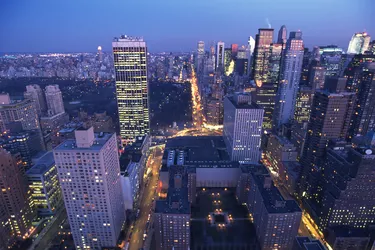 The pickings are slim when it comes to budget rentals in New York City. According to rental listings site Zumper, a one-bedroom apartment could set you back upwards of $3,100 per month, as of the time of publication. If priced out of an ever-climbing rental market, creative residents can find alternative ways to live in the Big Apple for free. Options include pet sitting, caretaking and living off of the grid in a recreational vehicle.
Live in an RV
If you can live without bricks and mortar, a permanent residential address or the convenience of built-in sewage disposal, RV living could be for you. Abide by local parking restrictions, and it's perfectly legal to park your RV in the New York neighborhood of your choice as your primary residence. You will, however, have trouble accessing fresh water and legally dumping sewage. Tapping into the nearest power source might require additional effort, too.
Find a "Zombie" Home
Vacant properties can remain in legal limbo following a housing market decline. So-called "zombie" homes are abandoned by homeowners but have yet to undergo foreclosure by the mortgage lender. Homeowners remain financially and legally responsible for the property, and property taxes, homeowner association fees and utility bills can haunt owners for years. By agreeing to pick up these expenses, you may find a zombie homeowner willing to let you live in the home rent-free.
Care for a Historic Home
It's a tough job to get, but some lucky New York residents have managed to snag rooms in some of the city's swankiest addresses rent-free by becoming stewards of historic homes. Caretakers are required to keep a permanent presence in the property and safeguard it from fire, frost and vandalism. You might also have to give the occasional tour. Interested applicants should contact the New York City Department of Parks and Recreation.
Work in Lieu of Rent
Search classified ads for housing arrangement that allow you to live in a room rent-free in exchange for services such as housekeeping, childcare, gardening or pet sitting. Your duties may be flexible and varied, so make sure you know exactly what is expected of you when making an agreement for free boarding. Some property management companies may also offer rent-free accommodations in the property or complex they are hired to manage.