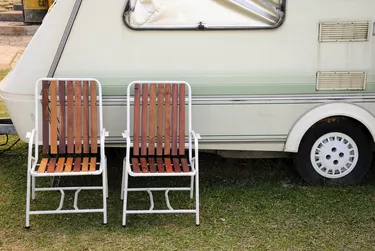 With apartment rents across the U.S. on the rise, finding a trailer home for rent may be a cheaper option. They are becoming increasingly attractive for those who seek competitive rental rates. Mobile homes have two main price points for renters to consider – the land lease (or lot rent) and the mobile home itself.
Differences Between Mobile Homes and Manufactured Homes
"Mobile homes" and "manufactured homes" are terms describing the same type of residence which some differences, according to Forbes Advisor. Mobile homes are those produced before June 15, 1976, with the idea that they were homes that could be moved around. Early models quickly depreciated and weren't necessarily built to be long-lasting. These residences have been significantly upgraded since then. Mobile homes built before this date aren't considered manufactured homes, even with upgrades.
Homes built after that date are "manufactured homes," although the terms are interchangeable. Today's homes are safer, more comfortable and made with better quality materials than those made in the early 1970s. They can be long-term or permanent housing and they are generally not meant to be moved off a lot more than once. Tenants can choose from a variety of amenities and floor plans; these manufactured homes often come with fully-equipped kitchens, large bedrooms and laundry rooms.
Defining Lot Rent or Land Lease
A lot lease is a lease or rental contract in which the tenant pays a set fee each month for their home to sit on a lot. This fee also usually includes access to trailer park amenities, which can include a garden or yard. The contract for the lot will provide the terms for the rental, outline any additional fees or fines and describe property and lease termination details. According to U.S. Mobile Home Pros, lots are generally between 960 and 2,400 square feet but can sometimes exceed 3,600 square feet. At a minimum of 40 feet wide, these plots can easily accommodate a mobile home.
Depending on what a trailer park offers, lot rental gives tenants plenty of amenities for recreational activities, including pools, parks, playgrounds and other recreational areas. Lot rent does not include showers and laundry rooms; these are extra based on usage. A lot lease also does not typically include utilities – water, sewage and electricity are paid for separately. Those who own pets may also owe a pet fee. A lot lease's terms can be in six, 12 and 24 months; many states regulate the contract length to keep trailers parks from locking tenants into overly long contracts.
Average Price of a Trailer Home for Rent
The cost of a manufactured home depends on its location and its size. Tenants can rent homes with single-, double- or triple-wide floor plans. Those renting in Missouri can pay as little as $185 each month. California, conversely, asks at least $707 in average rent for a manufactured home. However, prices can go up to $1,850 or more in some areas around bigger cities like Los Angeles or San Francisco.
For those wishing to purchase a manufactured home, the cost of a single-wide, which is approximately 500 to 1,200 square feet, was $64,500 in 2020. A double-wide, which can be up to 2,200 square feet, was about $120,300, according to Homes Direct. Those who wish to buy a plot of land to put their home on can do so independently of a trailer park. The price will, once again, depend on the location and the amenities in that location. According to Million Acres, in 2020, one acre of land averaged about $12,000 in the United States.