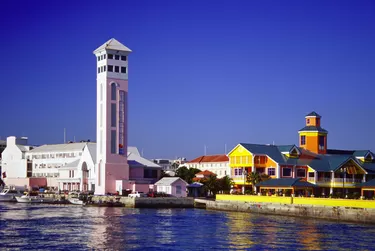 The Bahamas is an exotic Caribbean country of 700 islands known for their pristine beaches and deep blue waters. Travelers come here from around the world, but what about living here part- or full-time? Owning or renting an apartment in the Bahamas could be a dream come true, and it may not be as expensive as you might think. There are also affordable Bahamas beach houses for sale, which can be roomier and even more comfortable. With so many Bahamian islands though, where does one start to look for a new home here?
What Is the Cheapest Island in the Bahamas?
If you are planning to buy, it makes good sense to head down to the Bahamas to rent first and get the lay of the land. As a rule of thumb, homes that are farther from Nassau (the capital of the Bahamas) and/or farther from the beaches cost less in the Bahamas. This is pretty much true for all real estate. The closer you are to a capital city or the ocean, the higher the price.
On New Providence/Paradise Island and Grand Bahama Island, there are 1 bedroom/1 bathroom weekly rentals priced as low as ​$700​. Larger rentals can run in the ​low to high thousands​ (and much more for luxury properties), depending on the location.
You can also find affordable real estate on other Bahamian islands like Long Island (not the one in New York), Cat Island, Abaco or Exuma. Most have those beautiful beaches, and some offer dramatic bluffs, small fishing towns and hilltop neighborhoods. Located in Treasure Cay, Abaco has some of the loveliest beaches on the planet, and you may be able to find waterfront condos priced in the ​$200,000​ range when looking for a Bahamas beach house for sale.
The island of Eleuthera can also be affordable as well. This island is located east of Nassau and is 112 miles long. According to Caribbean Journal, this island is home to Harbour Island, where travelers go for upscale vacations. The southern part of Eleuthera is not as heavily trafficked and is often referred to as "under-the-radar," "exotic" and "beautiful."
According to Travel Tables, the monthly rental for a one-bedroom apartment inside or outside of Eleuthera's city center averages ​$800​. For a three-bedroom in either area, renters pay from ​$1,200 to $1,500​. Those who are interested in buying property can purchase an undeveloped parcel of land starting at ​$10,000​ for ​6,3000 square feet​. Realtor.com also shows some smaller homes priced at around ​$100,000​, and there are charming single-family homes priced in the ​$300s​ as well.
Additional Eleuthera Real Estate Advice
South Eleuthera is home to the quaint fishing village of Tarpum Bay and Rock Sound Airport. Here you will also find beach shack-chic houses and affordable homes, according to Out Island Life. In Central Eleuthera, there is Governor's Harbour, which features 1700s-style homes and low-key resorts.
Rainbow Bay is one of South Eleuthera's hilltop neighborhoods that looks down on the Caribbean on one side and the Atlantic Ocean on the other. This town also has wonderful beaches, shops, restaurants and the Governor's Harbour International Airport, which has flights from Florida.
Singer Lenny Kravitz has a home in Northern Eleuthera's Gregory Town, known for being a funky and appealing place for homebuyers to consider. Other Eleuthera towns up here include Upper and Lower Bogue and Alice Town. Besides that, there is the North Eleuthera International Airport, boutique organic farms and Harbour Island up at the northernmost part.