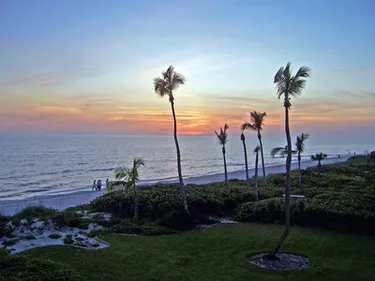 Finding the right city to retire in can optimize your post-employment years. Coastal cities along the Gulf of Mexico feature warm climates and plenty of outdoor activities, and many gulf coast locations offer tax breaks for retirees and low housing costs. Despite the April 20, 2010 oil rig explosion in the Gulf of Mexico and subsequent oil spill, the area is recovering. Retirement communities along the area urge visitors to see for themselves that the beach are still white and sandy and that the gulf coast is still a great place to retire.
St. Petersburg, Florida
St. Petersburg is on the gulf coast of Florida, near Tampa and Clearwater. Florida has always been the classic retirement and tourist destination because of its mild climate and accessibility to outdoor activities, like fishing and boating. Florida has no state income tax, and median home prices in 2010 were between $80,000 to $120,000. Many of the desirable neighborhoods are waterfront properties, which may cost a little more. St. Petersburg also offers many waterfront retirement communities.
Gulfport, Mississippi
With a population of 363,988 in 2009, Gulfport, Mississippi, is ideal for retirement. It has mild winters, low crime, and more than 25 golf courses. Gulfport has 26 miles of white sandy beaches which are good for swimming, fishing, or just relaxing. Mississippi is the state with the lowest per capita income, at $19,880 in 2010, making living costs low here. David Savageau's 2007 "Retirement Places Rated" rates the area around Gulfport, like Hattiesburg and Bay St. Louis, as top places to retire. Gulfport also has casinos and a rich French cultural history. In addition, the state has no income tax and exemption on property taxes for citizens over 65 years of age. Nine nonprofits in Gulfport have received grant money for oil spill recovery as of November 2010.
Sarasota, Florida
Sarasota, Florida, with its mild sub-tropical climate, was listed by Tom Brokaw Reports as one of America's top places for boomers to retire. It was also rated number four by the AARP on its list of "best places to reinvent your life." Sarasota has 35 miles of sandy beach for swimming and boating and plenty of cultural activities, like an opera, symphony, and art galleries. Florida has no state income tax, which is attractive to retirees.
Veracruz, Mexico
Veracruz is on the Gulf of Mexico in the country of Mexico. Many American retirees do not consider living abroad for their retirement, but it can be cost-efficient and an adventure. You will need a FM3 or FM2 Visa to live here, but you can easily apply if you have 12,500 pesos, which is about $1002 in 2010. You are allowed to own a car with U.S. plates, and rents are roughly $300 a month in 2010. Veracruz has a mix of Caribbean and Mexican culture, and it has affordable oceanfront properties. The town square offers markets and street performers. Quality medical and dental care is available because there are universities nearby.
Galveston, Texas
Located 50 miles south of Houston, Galveston has 32 miles of beaches and high-quality medical facilities. It has a vibrant historic downtown and beautiful Victorian architecture. Galveston doesn't have much traffic, and it only takes about 15 to 20 minutes to get anywhere on the island. Retirees can choose from apartments to single family homes. Galveston may not have all the tax breaks of other cities on the gulf coast, but it offers many diverse activities and southern charm.