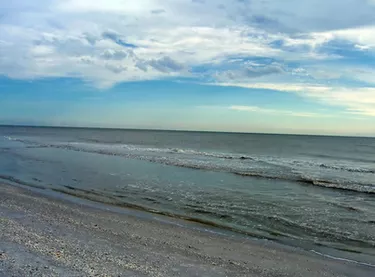 The Gulf Coast of Texas continues to be a magnet for retirees due to low-cost living, warm weather averaging 70 degrees year-round and approximately 370 miles of scenic coastline. Another draw to the State of Texas is the absence of state and retirement income taxes. The housing market remains below the national average, with homes starting well under $100,000, according to The North Carolina Center for Creative Retirement, which tracks annual retirement trends.
Galveston County
This county along the Gulf of Mexico boasts a number of quaint coastal towns that are perfect for retirees. Baytown and Kemah on Galveston Bay feature scenic boardwalk areas, 18-hole golf courses and nearby attractions like NASA, Galveston Island and the San Jacinto Monument. Smaller towns in the Galveston area don't draw as many tourists annually as other gulf locations, so this is truly a peaceful area to consider retiring. The only potential drawback about living in Galveston County is its history of hurricanes.
Victoria
Victoria is a historic city on the southern coast of Texas with documentation dating to the 1500s. It still features much of its original Romanesque and Victorian architecture, especially in the downtown area. Victoria is home to the Texas Zoo, approximately 12 city parks and many lakes that offer fishing, boating and swimming. Retirees love the old-world charm of Victoria and its close proximity to gulf beaches, about a 30-minute drive away.
Rockport
A seaside town right on the gulf shore, Rockport draws retirees, boaters and wildlife enthusiasts. It's a little more expensive to live in Rockport than some of the other Texas gulf towns, but well worth the extra costs because of the many available waterfront homes and exceptional views of the ocean and coastline. Rockport features a Maritime Museum, artistic and cultural activities, and saltwater fishing and wildlife watching opportunities.
Harlingen
Harlingen is one of the least expensive locations along Texas' Gulf Coast. As of 2009, this quaint town was home to approximately 58,000 residents. It's situated near the Rio Grande Valley, minutes from the Mexican border. Harlingen is noted for its Tex-Mex living environment that blends the best of Texan and Mexican cultures. Retirees appreciate the fact that Harlingen is close to a variety of south Texas attractions and cities like Padre Island.
Corpus Christi
One of the largest Gulf Coast cities in Texas, Corpus Christi is nicknamed the "Sparkling City by the Sea." It has 113 miles of coastline. Corpus Christi is a busier location for retirees, so if you like to be constantly on the go, this might be the perfect place for you. The average home price in Corpus Christi is around $120,000—below the national average, although many homes for sale tend to be fixer-uppers in this region. Be aware that as in many large cities, some neighborhoods may be less safe than others.