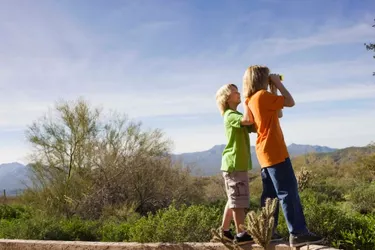 Arizona is a viable option for retirement because it offers warm weather, an affordable cost of living and many available housing options for retirees. Even though the state can be exceedingly warm during the summer months, some areas of Arizona offer moderate temperatures and enjoyable year-round activities. There are several cities in Arizona that are highly suitable for retirement. The scenery can be captivating and the unique combination of affordability, warm weather and available housing make Arizona a popular choice for retirement.
Phoenix
Phoenix has an extremely hot climate during the summer months, but in early fall through late spring, the temperatures are moderate and well-suited for outdoor activities. According to TopRetirements.com, many choose to retire in Phoenix because it has warm, mild winters, plentiful housing options and enjoyable golf courses. Phoenix also is a large metropolitan city, so it has many museums, restaurants, theaters, parks and shopping centers to accommodate a retired lifestyle.
According to RetirementPlacesReport.com, Sun City, Scottsdale and Tempe are just a few minutes from the center of Phoenix and contain some of the largest concentrations of senior citizens in the country.
Sedona
Sedona is considered by many to be one of the most visually appealing cities in Arizona. Retirees can enjoy the cooler temperatures in Sedona due to the high altitudes. Temperatures are tolerable all year round. According to both RetirementPlacesReport.com and Retirenet.com, almost nothing compares to the splendor surrounding Sedona. It is filled "with red rock buttes, soaring mesas and eroded canyon walls." In addition to its natural beauty, Sedona is one of the best cities to retire in Arizona for upper-income retirees because of its luxurious neighborhood estates and plentiful golf courses.
Tuscon
Tucson is another one of Arizona's prime retirement communities because of its warm temperatures and desert-like terrain. According to RetirementPlacesReport.com, Tucson provides retirees with diversity, social activities and the warm hospitality of a small town. Retirees can also enjoy the culturally rich community found in Tucson's blending of English, Native-American and Hispanic influences.
Flagstaff
Another popular retirement location for retirees can be found in northern Arizona in the city of Flagstaff. Arizona University is located in Flagstaff, so the college town atmosphere adds a youthfulness to the community that many retirees appreciate.
According to TopRetirements.com, Flagstaff has an altitude of 6,910 feet, thus making the climate much cooler in the summer as compared to any other city in Arizona. Summer temperatures do not normally exceed 90 degrees in this area, according to RetirementPlacesReport.com. Due to the moderate temperatures in Flagstaff, active retirees can enjoy all four seasons of outdoor activity. They can even find easy access to ski slopes during the winter months.
Tubac
Tubac is not for just anyone looking for the best city to retire in Arizona, but for some, it is the perfect mix of culture and climate. Tubac is slightly north of the Mexican border and is known for its artistic culture. According to RetirementPlacesReport.com, the town has a population of only around 1,200 people made up of a mix of artists, middle- and upper-class residents and retirees.
The village of Tubac was first settled by the Spanish who arrived in the late 1600s, and adobe houses are still popular on Tubac's main streets. New modern communities can also be found mixed in with the centuries-old adobe style of living, making Tubac a unique combination of old-world and new-world culture and architecture. Due to its elevation, Tubac's climate is cooler and less arid than the climate in Tuscon or Phoenix.