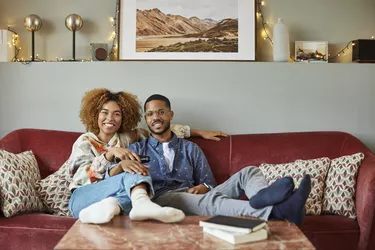 If you're young and in love and living in New Jersey, there are plenty of towns boasting the amenities millennials crave. Perhaps Paris or nearby New York City is more synonymous with romance, but the Garden State does have a lot to offer young couples. The millennial generation is looking for exciting urban neighborhoods, so the best places for this age group -- primarily under 30 -- are the New Jersey cities they are helping to revitalize.
New Jersey is not a cheap place to live. In 2013, the median household income was $71,637. The 2014 median hourly wage was $19.56. As of the time of publication, the state's unemployment rate was 6.8 percent. The state's population of those between the ages of 18 and 34 is approximately 1.9 million. As of 2014, the state's median home price was $295,000.
As of the time of publication, the median monthly rent is $1,850, and that may not include utilities. However, rentals are less expensive than comparable units in New York City, where relatively small apartments may cost $4,000 a month. Depending on the location, commuting to work in Manhattan from New Jersey may take the same amount of time -- or less -- than commuting into "the city" from far-off reaches of Brooklyn or Queens.
Millennial couples living in some of New Jersey's "best places" for their generation may not need a car, or certainly not two vehicles.
Asbury Park, a music haven by the Atlantic Ocean, is a millennial favorite. Its restaurants feature the cuisine of many countries, while its artisanal shops, art galleries and clothing boutiques make for exciting shopping. Of course, strolling along its famed boardwalk is absolutely free.
Asbury Park's music scene is second to none in New Jersey, and you never know when Bruce Springsteen might stop in. "It has the amenities of a city but still has a small neighborhood vibe. And on top of all that, it's also very affordable to live here. We could never afford an apartment like ours if it was in Hoboken or Brooklyn," according to one 26-year-old Asbury Park resident.
This industrial city's easy access to New York City makes it a draw for millennials. If they want to spend a weekend "down the Shore," there's equally easy train access in that direction. However, young couples don't have to leave town for dining and entertainment. In addition, there are hiking trails through the Meadowlands, and free boat ramp access to the Hackensack River.
As living in New York City becomes too expensive for all but the richest millennials, Jersey City is a viable alternative for those desiring a short commute to work in Manhattan and a vibrant place to live and relax after hours. Its Hudson County location is among those attracting large numbers of young people.
The city boasts parks, the waterfront, top restaurants and quality housing stock, from new high-rises to 19th century brownstones. While many of Jersey City's millennials take the 10 minute ride on the PATH train to downtown Manhattan, others walk to work in the city's own financial district.
This historic town serves as Morris County's county seat. A bustling municipality during the 18th century -- Morristown served as Washington's winter headquarters during the Revolutionary War -- this walkable town is attracting young 21st century residents.
Its downtown, which suffered during the era of the baby boomers, who drove everywhere, is now revitalized by a generation who likes to walk to their destinations. Not only does it offer train service for the 1 hour trip to New York City, but Morristown is just 30 minutes away from Newark Liberty International Airport. That makes travel, another millennial favorite, relatively accessible.