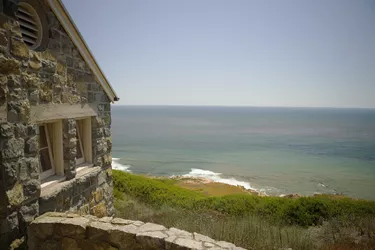 Homes along the coast are known to be more expensive than those that are inland. However, Washington, Oregon and even California have some of the cheapest places to live by the ocean. If you've ever dreamed about living in a beach town along the West Coast but thought you couldn't afford it, that dream is not necessarily out of reach.
The Cheapest Place to Live by the Ocean in Washington
The cheapest place to live by the ocean in Washington is Port Angeles. With nearly 20,000 residents, Port Angeles is less than three hours from Seattle. The population is made up of mostly retirees and young professionals with families. Port Angeles is located on Washington's Olympic Peninsula, just a few miles from Olympic National Park, which includes the Hoh Rain Forest, the only temperate rainforest in the continental U.S.
According to Thrillist, the median home price in the area is $202,500 and Zumper states the average rent is about $520 for a one-bedroom apartment. The city has a dense, suburban feel with plenty of activities for the whole family to enjoy. As it is a beach town, whale-watching excursions are popular and its waterfront is filled with quaint boutiques and restaurants. Also, for those who enjoy the outdoors, the Olympic Discovery Trail, a car-free, 130-mile route on the peninsula passes through this area.
The Cheapest Place to Live by the Ocean in Oregon
According to HomeSnacks, Coos Bay in Oregon is one of the cheapest places to buy beachfront property and is located where the Coos River enters the Pacific Ocean. Downtown Coos Bay has a boardwalk with stunning ocean views, fish markets, antique and boutique stores and top-rated restaurants. There are plenty of educational opportunities, museums and cultural events for people of all ages. Coos Bay is also home to Bay Area Hospital, which is the largest hospital on the Oregon Coast and serves as a regional referral center, according to CoosBay.org.
Coos Bay is about 40 miles south of the Oregon Dune National Recreation Area and about 10 miles from the fishing town of Charleston. The town has a distinctly suburban feel – most of its residents own instead of rent. The area is home to both young professionals with families and retirees. Homes here have a median sale price of $181,20 and the average rent is about $820 a month, both of which are lower than the average for much of Oregon.
California's Best Beach Towns to Live In
Due to its massive size, California has a few beach towns that, while still expensive, are more affordable. According to Discover California, Crescent City is the cheapest beach town in the northern part of the state. Its average home price is $251,337 and Apartment Guide states that its rents average about $825 a month. Crescent City is home to redwoods, pristine beaches and some of the best surfing California has to offer. With its Queen Anne-style architecture and abundant cultural actives, Eureka is roughly five hours from San Francisco and has an average home price of $303,638 and rent price of $838, according to Zumper.
Southern California also has its share of inexpensive places to live on the coast. About four hours north of Los Angeles, San Simeon, home to newspaper magnate William Randolph Hearst's iconic castle, has a median home price of $486,082. Just one hour outside of LA, the neighboring towns of Oxnard and Ventura are also relatively affordable with average home prices of $518,706 and $612,163, respectively. According to Rent Cafe, the average apartment in Oxnard costs $2,111 a month; in comparison, the site states that the average rent in Ventura is $2,295.