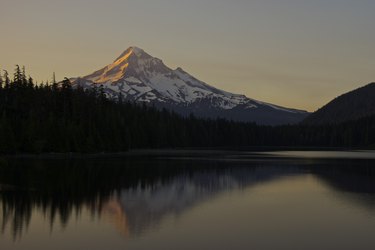 If you're searching for an inexpensive community in Oregon, you may want to put Baker City on your shortlist. The small city, which has a population of just under 10,000 according to 2013 census data, is located in a mountainous region of Eastern Oregon near the Idaho border. The city is known for its mountain views, rich history, and lower-than-average cost of living as compared with other cities in Oregon.
Low Cost of Living
The price of utilities, housing, transportation, taxes, and food are considered when determining an area's cost of living. The cost of living in Baker City is 21 percent less than the state's average cost of living and nearly 10 percent less than the national average cost of living. To get an idea of how cheap it is to live in Baker City, compare its cost of living to Portland, Oregon's. Portland has a cost of living 4.6 percent above the state average and more than 19 percent higher than the national average cost of living.
Home Price Comparisons
The median home price in Baker City was $122,600 based on 2012 estimates. The median home price in the state of Oregon for the same time period was $246,100 -- about twice the price of Baker City homes. The median price averaging $288,300 based on 2012 estimates.
Really Low Rental Rates
Rental costs in Baker City are also low, as compared with Oregon state and the national average. 2012 rental data indicates that the median monthly rental rate in Baker City was $652, about $200 less than Oregon's median rental rate for the same time period. Baker City's median rental price was nearly 27 percent lower than the nation's median monthly rental rate.
Additional Considerations
Living costs are just some of the factors to consider before moving to an area. The median household income in Baker City is just $34,900, which is lower than both Oregon and national averages. Median household incomes in Oregon were $50,036, and the national average was $53,046 as of the time of publication. Baker City relatively small size means fewer employment opportunities here than in larger cities.