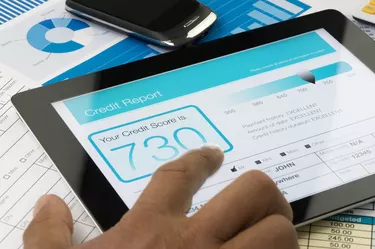 More and more people are turning to career counselors, life coaches, credit-repair specialists, personal shoppers, home organizers and other lifestyle experts to improve their situations. Becoming a credit-repair specialist doesn't require a degree or even certification, and you can learn how to do it online. Reviewing different paths to learn how to be a credit-repair consultant will help you decide if this career is right for you.
A credit-repair specialist works one-on-one with clients to help them analyze their debt situation and create a detailed, personal plan for rebuilding their creditworthiness and raising their credit score, explains CreditRepair.com.
You should understand how to pull and analyze credit reports, how credit scores work, the impact of credit usage on a score, how to secure and manage credit products (such as cards, mortgages and auto loans), what debt consolidation is and how to reduce debt. You should also understand credit and bankruptcy laws.
After an initial consultation with a client, usually done by phone or videoconference, you'll educate your client about credit basics, then work with her to create a personalized plan.
This can include helping her list and analyze all her debt, create a personal budget, plan personal financial goals, use different financial tools (such as software, websites and apps) and set savings, spending and debt-reduction goals.
You can learn almost everything you need to know about credit counseling without paying for classes, but that can take months, and you might not know exactly what to look for. You can visit websites, blogs, YouTube channels or buy books on the subject.
If you search online, you'll find a wide variety of businesses that offer training to become a credit-repair specialist or credit counselor. If you live in or near a big city, you might be able to take in-person seminars. You can also find many online training classes.
Make sure before you sign up for any online training course that you look for reviews of the provider first. Look for real reviews from people who actually paid for and took the course – don't rely on reviews posted at the trainer's website.
Should You Get Certified?
If you want to attract more clients, getting certified as a credit-repair specialist or credit counselor will help. Look at organizations like the National Association of Certified Credit Counselors, which offers a Certified Credit Counselor (CCC) designation, as well as five other personal finance coaching certifications. You can join the Credit Consultants Association, choosing to become a Board Certified Credit Consultant (BCCC), a Certified Credit Score Consultant (CCSC) or both.
Your earning potential depends on the services you offer, your ability to market yourself as more desirable than your competitors and a few other factors. You can work on your own or for a credit counseling agency. If you work for a credit counseling agency, you'll make less, but won't have to run your own business or find your own clients.
According to Salary.com, the average credit consultant made ​$43​ per hour (as of February 2022), with typical ranges between ​$38​ to ​$48​ per hour. The site lists an annual average credit repair agent salary of ​$88,995​, with a typical credit repair specialist salary range between ​$79,370​ and ​$99,267.​ According to the U.S. Bureau of Labor Statistics, the mean annual wage for credit counselors was ​$50,230​ in 2020.
Tips for Launching a Business
Once you've completed your training and are ready to go out on your own, you will be more likely to earn the big bucks if you do a few things:
Set up a business that protects you from personal liability.
Create a website with your services, rates and a few blog articles that showcase your knowledge.
Create a marketing brochure or area on your website.
Get a good headshot for your bio page on your website.
Learn to use videoconferencing software.
Create handouts you can give to clients they can use to study.
Before you start taking clients, let your friends and co-workers know via your social media channels or an email blast that you are now offering credit counseling. Offer free counseling to the first X number of people who contact you. This will help you get real experience and testimonials.