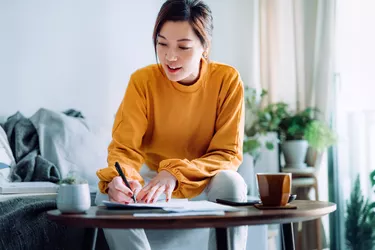 Checking your credit score occasionally can help you qualify for the best rates on loans. If your credit score falls near the average U.S. credit score of ​714​, your score is good, but it could stand a little improvement to get to excellent. You can sign up for a Credit Karma account and download the app to monitor your credit report from anywhere.
What Does Credit Karma Do?
Credit Karma provides free credit reports and free credit scores to consumers. Credit Karma works with Equifax and TransUnion to let you see your score and credit report and sends notifications if unusual activity is detected. The Credit Karma business model allows it to offer this service at no charge.
How does Credit Karma make money? Through commissions on the products you buy based on their recommendations. As Credit Karma learns more about your financial habits and goals, the site will recommend solutions that could benefit you, and when you buy, the site makes money.
Before you can use Credit Karma, you'll need to sign up for an account. You can do this at CreditKarma.com or by going to the app store on your iOS or Android device. Signing up doesn't hurt your credit, and you won't have to provide sensitive financial information.
Once you've downloaded the app, make sure you go in and check your notifications. You can manage Credit Karma's notification preferences in the settings of either the website or the app. Simply enable free credit monitoring to be alerted of any new credit utilization that could impact your score.
New Credit Through Credit Karma
Another useful feature is Credit Karma's Approval Odds. These are opportunities that are customized to your credit profile as looking likely for approval. These could be offers for credit cards, personal loans or mortgage opportunities that look likely to go through to keep you from wasting time.
You can sign up for a Credit Karma account and download the app to monitor your credit report from anywhere.
Keep in mind that these opportunities Credit Karma offers are based on their paid partners. The lenders don't guarantee you'll be approved, but since the offers are based on your credit information, you're less likely to waste time and impact your credit score, only to be denied.
Using Your Credit History
The best thing about Credit Karma's free credit services is the visibility into your credit health. Credit Karma can provide data from two of the three major credit bureaus: Equifax and TransUnion. The score you'll see is the VantageScore 3.0, which isn't the same as the FICO® Score. Lenders can vary in the scoring models they use.
The best thing about Credit Karma is there's no limit to how often you can check your score. The credit bureaus update information regularly, so it's important to check in often. Here are the VantageScore 3.0 credit score ranges:
​Excellent: 781-850​
​Good: 661-780​
​Fair: 601-660​
​Poor: 300-600​
A score of good or excellent is most likely to qualify you for loan products at competitive rates.
Credit Karma's Other Tools
Once you've signed up for an account, consider some of Credit Karma's other financial products. Those include notifications that can protect you against identity theft and the Relief Roadmap, which offers tips and techniques for working your way toward your best credit score.
If you're in the market for a new bank account, there's also Credit Karma Money, which offers checking and savings. Credit Karma also offers a line of credit called Credit Builder that can help you work toward improving your credit score.
Whether you have bad credit or you simply want to boost your existing score a little, Credit Karma can help. The free credit monitoring will help you protect yourself against identity theft while also letting you keep an eye on how your score is improving with your on-time payment history and reduced credit utilization.