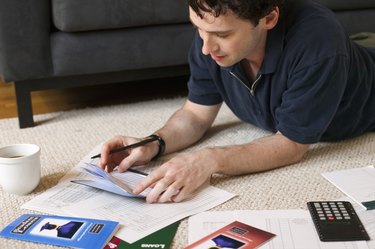 Most college students seek financial help with their education, and this help typically comes in the form of student loans and scholarships. For students who lack a high school diploma or GED, though, the process of obtaining a federal student loan meets with some extra hurdles. By taking the appropriate measures, students without a GED can secure federal student loans to help them pay for college. The process requires only a few basic steps.
Step 1
Complete the FAFSA, the Free Application for Federal Student Aid, and file it electronically or by mail. You can find the online and print versions of the form at the FAFSA website, fafsa.ed.gov. Enter your personal information and list the schools you want to receive a copy of your financial aid information.
Step 2
Review your Student Aid Report, which will be mailed to you approximately two to three weeks after you file your FAFSA application. The Student Aid Report simply gives you an opportunity to review all of the information that you entered on your FAFSA application. Once you have reviewed the SAR, sign it and mail it back to the address listed on the provided envelope.
Step 3
Ask your prospective school about opportunities to take an Ability to Benefit exam. This test was established in 1996 as an alternative entrance path for students who do not have a GED. Passing an Ability-to-Benefit exam shows the federal government and the university or college that you possess the ability to perform well in a college environment and obtain a degree.
Step 4
Complete the Ability to Benefit exam. The test features two sections. One section tests your math skills, and another section tests English reading and writing skills.
Step 5
Wait for confirmation by mail and/or email that you achieved a minimum passing score on the Ability to Benefit exam. When you receive this confirmation, you will be notified that you qualify for federal student aid.
Step 6
Receive a student aid award letter from your college or university. This letter should arrive in the mail. It will list the types of financial for which you qualify. By passing the Ability to Benefit exam, you should qualify for federal student loans. You must indicate that you wish to accept the federal student loan as part of your financial aid award.
Step 7
Sign the award letter and submit it by mail to the college or university.
Step 8
Receive your award. This should take one to three weeks after you have accepted your financial aid awards. The student loans will be applied to your account once the federal government dispenses the funds.
Tip
You can delay your tuition payment by waiver at most schools once you have passed the Ability to Perform exam and the school is aware that you are going to receive financial aid to cover your tuition balance.
Students receive three chances to pass the Ability to Benefit test, but the third attempt is allowed only on the referral of a school financial aid adviser.
You might be required to take only one portion of the Ability to Benefit test. Inquire about this before taking the test.
Warning
The Ability to Perform requirement could delay your student aid award, and this could affect your ability to cover room and board and other school-related expenses.