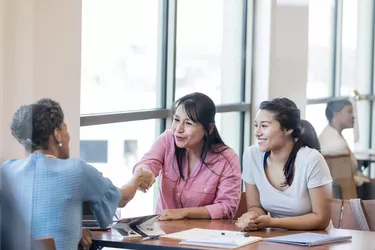 If you don't have a GED or high school diploma, you run into some challenges when trying to get federal loans and grants to attend college. That's because the U.S. Department of Education considers your ability to benefit from higher education alongside other requirements, such as financial need, legal residency status and enrollment in an eligible program. Having proof of high school completion is the most common way to demonstrate your readiness.
So, can you get financial aid without a high school diploma or GED? The good news is that you could still potentially qualify for federal loans and grants through the government's ability-to-benefit pathways. The options available will depend on whether you've attended college before July 2012 and might involve a career pathway program, ability-to-benefit test or completion of some college credits.
Entering a Career Pathway Program
If you're a new student, you could choose a career pathway program at a college or university and take a test that shows you'd benefit from higher education. This option both provides a path to high school completion and leads to a certificate or degree preparing you for a specific job. However, the U.S. Department of Education doesn't require getting a GED or high school diploma during your program.
Eligible programs depend on the institution but focus on current industry needs. For example, Henry Ford College offers career pathway programs leading to certificates in areas such as automotive technology, plumbing and pipefitting, computer networking and welding.
To benefit from such a program and get federal student loans and grants, you'll need to meet various requirements. These include having completed a FAFSA application, agreeing to join an adult education program, meeting the minimum test score threshold and meeting all the other criteria to receive federal aid. Lastly, you'll need to get accepted into the particular school offering the pathway program you want to join.
Qualifying as a Past Student
If you completed college courses sometime before ​July 2012​, you have additional ways to qualify for federal aid without high school completion. If you don't want to go with a career pathway program, you could get aid for another degree or certificate program if you first complete six credits successfully, explains South Texas College. However, remedial courses won't count for this.
Otherwise, your college could administer an ability-to-benefit test to assess your eligibility. There's also a possibility that your state may have its own process that could make you eligible.
How to Get a Student Loan Without the FAFSA
Can you get a student loan without financial aid from the government? You could seek private student loans, but lenders require eligibility for a qualified education program, which often requires high school completion. If you do qualify for private loans, the U.S Department of Education cautions that there are disadvantages, such as higher interest rates, requirements to pay while in school, a credit check and loss of access to government repayment plans.
Alternatively, you could consider getting a personal loan to pay for your college education, seek scholarship programs that don't require high school completion or use personal funds to cover classes. However, the cost to attend without helpful aid, such as federal grants, can run very high. Also, you run into the challenges that come with getting admitted to a postsecondary program without proof of high school completion.
Consider Completing High School
For the most flexibility, it's a good idea to consider options for getting your GED or high school diploma first. For example, the Ohio Department of Education has a free high school completion program for adults. You can also study on your own for a high school equivalency test and take advantage of programs that can cover or subsidize your test fees.
After you have your credential, you could access federal aid normally. For example, you could receive a Pell Grant for GED and high school diploma holders if you're financially eligible.