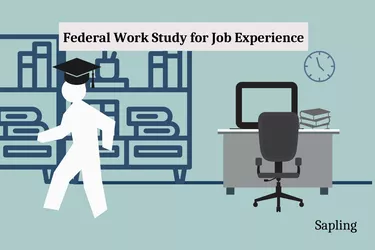 According to the Community College Research Study, an estimated ​600,000​ college students participate in the Federal Work-Study program each year. While earning some needed money through the program is appealing, you can benefit even more with the work experience and skills you can add to your resume.
You'll have several Federal Work-Study job options from which you can choose; therefore, you'll need to consider the best fit based on your major, career plans and interests.
Why Pursue Federal Work-Study?
While some students just find regular part-time jobs, Federal Work-Study jobs offer some advantages if you meet the financial and academic requirements to obtain one. First, FederalStudentAid says that you're guaranteed to only have a part-time schedule that provides a better work-life balance as a student. Second, while you do have a limited job selection, there's usually a variety of off-campus and on-campus opportunities. Lastly, you also don't have to worry about your wages harming your financial aid award.
Major-related opportunities are highly desirable since you can start experiencing your desired role early on, ensure it's right for you and gain role-specific experience you can discuss with future employers.
Whether you're studying business, education or computer science, you'll likely find Work-Study jobs that directly relate to your planned career. Major-related opportunities are highly desirable since you can start experiencing your desired role early on, ensure that it's right for you and gain role-specific experience you can discuss with future employers.
For example, if you're studying to become a high school teacher, you might apply to become a tutor or teaching assistant. During your Federal Work-Study program, you'd get practice explaining concepts to students or helping the professor grade papers. Both of these skills will be essential for your future teaching career.
Duquesne University lists many other Federal Work-Study jobs tied to specific majors. For example, you might work as an accounting assistant as a finance or accounting major, a daycare provider as an early childhood education major, a lab assistant as a science major or a computer lab support assistant as a technology major.
Looking at Your Desired Industry
Not all Federal Work-Study opportunities are on the college's campus but instead take place at various community organizations. So, even if you don't choose a role closely tied to your major, you could still look for a job at an organization in the industry in which you'd like to work. You can also consider testing out jobs in different industries to enhance your resume, show adaptability and find where you fit best.
For example, if you're interested in social services, Indiana University mentions that you could find roles at organizations dedicated to feeding the homeless, supporting displaced families, advocating for a particular group or protecting the environment. Other opportunities could include working for museums, libraries, public health organizations or local educational facilities.
Building Broad Work Skills
Regardless of the type of Federal Work-Study job you choose, you'll have plenty of opportunities to build both soft and hard skills. Maryville University lists some examples that employers demand such as communication, problem-solving, leadership, technological, critical thinking and organizational skills. Possessing these skills will help make you a more valuable employee wherever your career path takes you.
For instance, say that you decide to work as an office assistant for your university. This work would prepare you to use various types of equipment and software, provide customer service to visitors and callers, juggle multiple tasks and possibly even hone your communication skills through the documents you create. A resident assistant role, on the other hand, would hone your leadership, problem-solving and interpersonal skills.
Combining With Other Experience
Since Federal Work-Study does come with limited work hours and options, you might seek additional work experience to best prepare yourself for the job market. One option is an external part-time job that's related to your major. You could also look into internship or apprenticeship opportunities that may lead to a full-time offer after you graduate. While unpaid, volunteering in your desired field can also enhance your resume alongside your Federal Work-Study experience.