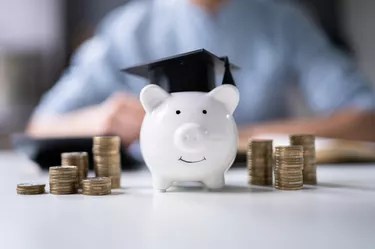 If you're looking for financial aid for graduate school, seeking a fellowship can provide funding not only for your classes but also for your living expenses. Fellowships can come either directly from your graduate school or from external organizations associated with your field of study. In either case, you'll usually need to go through a competitive application process to qualify for and receive the fellowship as well as meet the terms and conditions to keep it. If you do qualify for a fellowship, you can reduce your need for student loan debt and outside employment and be able to focus full-time on studying.
How Does a Fellowship Work?
If you receive a fellowship, it might pay for part or all of your tuition, books and fees along with your university health insurance coverage and a stipend that helps you pay for living expenses like housing, transportation and food.
These benefits are funds to simply support your graduate studies and are not compensation for any employment with the graduate school, although there may be a requirement to perform some teaching activities. It differs from an assistantship where you might receive a salary for working as a teaching assistant (TA) or research assistant alongside benefits like a reduced health insurance premium and subsidized tuition.
Your graduate school might automatically consider you for a fellowship when you apply to the graduate program and they evaluate your records.
You'll often receive an internal fellowship when you're first admitted to the graduate program, and it may last one year. Often, your school will put limitations on other financial aid and outside employment during your award period. External fellowships vary and may last for several years with varying levels of support. After a fellowship ends, you might look for another fellowship or consider other options like student loans, outside employment or a TA position.
What Are Fellowship Requirements?
Fellowship eligibility requirements vary for internal and external opportunities. For example, internal fellowships often require that you're a new full-time student in an eligible program and have a competitive academic record and achievements in your area of study. Further, faculty will need to nominate you, and you'll often need letters of recommendation and a letter of intent describing why you deserve the fellowship. External fellowship requirements vary but might include U.S. residency, enrollment in a relevant master's or doctoral program and verification you've never earned a graduate degree before.
After being eligible and getting the fellowship, you'll have further requirements to meet to maintain the benefits. This can include taking a certain number of credits, maintaining a high GPA, making good academic progress, staying within the original program and not taking other financial benefits without the school or organization's approval. There's usually also a code of conduct you have to adhere to. A fellowship will also end once you've completed the program such as after having your thesis or dissertation approved and graduating.
Your graduate school might automatically consider you for a fellowship when you apply to the graduate program and they evaluate your records. Otherwise, you can ask the financial aid office or your program's academic department, and you'll want to be mindful of deadlines.
If you appear eligible, you'll need a nomination to be further considered as well as complete your school's specific steps to prove your eligibility. Often, this means filling out an application, having recommendations, showing your grades and writing a statement.
You might learn about external fellowships through your school or organizations like the National Science Foundation. The application process usually means going through the awarding organization and submitting materials like recommendation letters from faculty at your school, college transcripts and personal statements on your goals. You may need to apply far in advance since deadlines vary and recipients of external awards may not get announced until several months after the application deadline.
Considering Fellowships and Your Finances
If you're able to be a full-time graduate student and not work a job, then you can particularly benefit financially when you land a fellowship that fully covers your costs. You get the benefit of being able to focus fully on your graduate studies without the stress of balancing work along with it. Further, the financial benefits of such a fellowship might exceed what you could earn working and studying, especially considering the cost of tuition you'd have to pay.
However, if you can only get partial funding or you prefer to keep an outside job, you might opt for alternatives such as paying yourself from your earnings, using tuition assistance from your employer, seeking scholarships or taking out student loans. You can also do research to find fellowship programs with more flexible requirements that fit your needs.