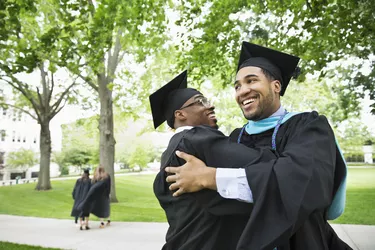 If you're interested in continuing your education, you might wonder, "Can I still receive financial aid after I graduate from my bachelor's program?" While some federal financial aid options are no longer available after you've earned your bachelor's degree, you can still take advantage of federal student loans and certain grant programs. You'll just need to make sure you meet the specific criteria and don't exceed any limits. In addition, you can seek aid from other sources, and you can consider private student loans.
Pell Grant for Bachelor's Degree Holders
While you might have received the funds during your undergraduate studies, it's rarer to get a Pell Grant for bachelor's degree holders. That means you generally shouldn't expect to get the grant to earn a second bachelor's degree or complete a graduate program. However, the U.S. Department of Education does allow the grant for graduates enrolling in qualified postbaccalaureate programs for teacher certification. If qualified, you could get as much as ​$6,895​ for your studies during the 2022 to 2023 school year.
If you plan to enroll in an eligible undergraduate or graduate program to become a teacher in a high-need subject area, you could also get the TEACH Grant. According to the U.S. Department of Education, this can be ​$4,000​ maximum annually, but you'll need to meet some criteria. For example, after you graduate, you'll have eight years to complete four years of teaching in a qualified school district. Failing to meet the various terms leads to the grant becoming a loan.
As long as you attend half time or more in a financial-aid-eligible program and don't exceed the annual and lifetime limits, you can continue receiving federal student loans after your first bachelor's degree. These loans aren't need-based like grants may be, so they're easier to obtain.
The U.S. Department of Education explains that you're considered an independent student after your first bachelor's degree. Therefore, you can borrow as much as ​$12,500​ annually for an undergraduate program and ​$20,500​ annually for a graduate program.
The lifetime maximums are ​$57,000​ for undergraduate programs and ​$138,500​ for undergraduate and graduate programs combined. If you're completing medical training, you might have a higher combined loan limit.
Federal Work-Study Program
Like you might have when you filled out your first bachelor's degree FAFSA, you could qualify for the Federal Work-Study program to help finance further education. You'll just need to be willing to do part-time work and meet the financial need criteria.
The U.S. Department of Education notes that your award will vary depending on the school, your application date and your financial situation. You could get an hourly wage or salary depending on the job and your degree level. In addition, the job could be off campus or on campus.
Other Financial Assistance Options
For bachelor's degree holders, there are other options beyond just getting aid through the FAFSA. Some of these include:
​State financial aid programs​: While they're most common for first bachelor's degree seekers, state financial aid programs exist that could work for continuing your education. You can check with your state's department of education to see what's available.


​School-specific programs​: Your school might offer grants or scholarships that work for those seeking continuing education. For example, Western Governors University offers the Resiliency Grant to bachelor's and master's degree seekers with financial need. Some schools also offer discounts through partnerships with certain employers and organizations. You could also consider fellowships or assistantships if you're a graduate student.


​Outside scholarships​: You can research need- and merit-based scholarships through professional organizations, charities, corporations and other entities. Google is one example of a company with graduate-level scholarship programs.


​Tuition reimbursement​: If employed, check with your company to see if you can get tuition reimbursement or assistance. You could end up getting many of your costs covered up to a maximum set. In addition, some companies, like Target, have special programs that will fully cover tuition for certain schools and degree programs.


​Private student loans​: While they have more downsides than the federal option, private student loans can help make up for any shortage when paired with other assistance programs. Do know, however, that these loans require a credit check and often have more unfavorable terms than federal loans.