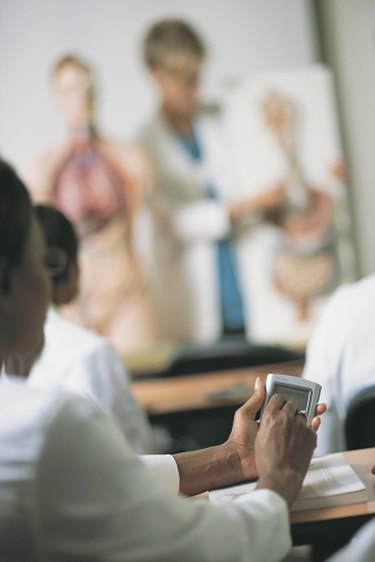 In 2008, just 45 percent of the more than 42,000 applications to medical school in the United States were accepted, according to the AMA-Journal of Ethics. That statistic not only speaks to the highly competitive nature of getting into medical school, but also to the need for adequate preparation for admission. While the question of which pre-med programs are "best" is often asked, it is often difficult to objectively answer. Several "best" lists exists and there's not much agreement about the top candidates. They each use different criteria to judge, and many challenge the legitimacy of such lists.
Recommendations for Premedical Curricula
"There's been uniform agreement among medical school deans" that reforms in pre-med and medical school current have been needed for some time, said Robert Alpern, dean of the Yale School of Medicine in "The Wall Street Journal" in 2009. Later that year, two authors reporting in the Nov. 2009 edition of the American Medical Associations "Journal of Ethics" echoed those sentiments. At issue is how well premedical curricula prepare students for the scientific rigor needed to continually innovate in medicine, but also less tangible changes needed in the "hidden premedical curriculum," which indirectly impart attitudes and ideas of future doctors. The journal authors put it plainly, "something is amiss in premedical education." It needs change.
New Criteria for "Best"
In a report to the pre-med education community, "Scientific Foundations for Future Physicians," medical authorities said pre-med curricula are stale and don't accurately reflect the competencies medical students need to have mastered. Students need premedical programs that "educate future physicians to be inquisitive, help them build a strong scientific foundation for future medical practice and equip them with the knowledge, skills, and habits of mind to integrate new scientific discovery into their medical practice." Essentially, the schools that have dropped the status quo and are beginning to adopt these educational leanings are among the best—the best schools to prepare students for a rapidly changing field.
Lists
Qualifications to rank in "best" lists include how many students go on to enroll in medical schools, which schools get the most applications, which schools have students with the best MCAT scores and the rigor of the course load. Without any more explanation that its list represented "experts' choice," InsideCollege ranks Amherst College, Bates College, Brown University, Bucknell University and Carleton College as the top five of 23 colleges it named as the best pre-med schools. The list also gives "honorable mentions" to 39 other schools. Bowdoin College, Case Western Reserve University, Colby College, College of Idaho and College of the Holy Cross topped that part of the list. Education-Portal.com lists University of Pennsylvania and Harvard University as its "Best" pre-med schools. Then in a list of "Good Schools for Pre-Med Students," its top five include University of Minnesota-Twin Cities, Michigan State University, University of Washington, University of Michigan-Ann Arbor and University of Wisconsin-Madison.
Customized Selection Help
You should take "best" lists with a grain of salt, states the Student Doctor Network. Often these lists serve the interests of the publisher and are of little value because there isn't a perfect school, the organization argues. There's just what's best for you. The network offers SDN's Interview Feedback feature in its Schools Database. It offers the opinions and experience of thousands of premed students. In addition, the Princeton Review, "Forbes"and "U.S. News & World Report" offer online assessment tools to help you pick a school based on your own criteria. Moreover the Association of Medical Colleges states you should think about factors such as faculty, academic standards, broad course range outside of science, laboratory facilities, courses linked to medical school admission requirements, dedicated advisers and strong medical school admission track record. In addition, personal factors such as whether you can afford the school and how well it fits with your ideals in terms of size, location and social life.