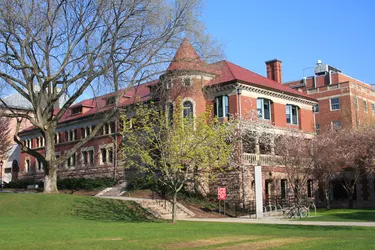 When choosing a pre-medical college, it's vital to analyze how the different institutions can help you reach your goal of becoming a physician. The best pre-med colleges in the U.S. are highly competitive, and the main things they look at are applicant admission test scores and GPAs. The best advice is to research the schools early, start studying for the test and prepare the applications as soon as possible.
Many websites list the best premed colleges, and these usually pick the ones with the most challenging course loads and students with the highest MCAT scores. You'll see ones like Bucknell University in PA, Brown University in RI, Amherst College in MA and big ones like Harvard and New York University. Others worth considering include the University of Wisconsin-Madison, University of Washington, Case Western Reserve University in OH, Bowdoin College in ME and College of Idaho.
It's wise to look over the "best" lists, but these aren't the only tools students should utilize. The educators at the South Carolina Honors College write that it's also essential to look at statistics that the schools share. Two of the most important stats are the average student MCAT score and GPAs, but the medical school acceptance rates are also vital. For 2020, this school shows a median ​509 MCAT​ and ​3.87 GPA​; the acceptance rate was ​78.75 percent.​
Other important things to look for include academic standards, laboratory facilities, faculty, courses linked to the most medical school admission requirements and a wide variety of courses outside science. You'll also want to make sure that you'll have dedicated advisers to help along the way and plenty of clinical opportunities. Once that's narrowed down, you'll have to ensure that you can afford the tuition, you like where the campus is and whether you like the size of the school, its opportunities for housing and social opportunities. Even the hardest-working pre-med students need to take a break once in a while!
Understanding Top College Lists
College ranking lists also consider tuition costs, reviews from alumni, application requirements, opportunities for financial aid and student-to-faculty ratios. It's not surprising that some of the top schools across the country make the lists, like Princeton, Harvard, Columbia, the Massachusetts Institute of Technology (MIT) and Yale. But even if students are accepted to these prestigious institutions, they might not be able to afford the costs. These schools and others offer need-based grants and scholarships to applicants who qualify, but again, the competition can be intense.
Some experts estimate that about 20 percent of students receive this kind of financial aid for tuition, but know that this usually doesn't include room and board, meals and other things like books. CollegeBoard has a free online calculator that helps students figure out what their actual costs will be. Realistically, many medical students are in the hole financially after graduating; in 2021, the average student borrower was saddled with ​$39,351​ in debt.
Medical Schools That Offer Full Scholarships
There's no question that attending the top pre-med schools and best medical schools results require sizable investments and possibly overwhelming debt. Still, some of the best medical schools offer full-ride scholarships. These are offered to the best and brightest, and applicants need outstanding grades and admission test scores, community service and exceptional recommendations. A few to shoot for are the Cleveland Clinic's Clinic Assistance Program, the Mayo Medical School Tuition Scholarships and the Mayo Clinic's Dean's Academic Achievement Scholarships.
The military branches also provide full-ride scholarships for medical students who attend schools in the U.S. For example, the U.S. Air Force experts provide a fact sheet for individuals interested in qualifying for their Health Professionals Scholarship Program (HPSP). They have to sign enlistment contracts, though, and these individuals will have to commit to serving as military doctors after they graduate. In these residency programs, they can also work on military reserve medical teams. The commitment also involves mandatory community practice plus military service as needed. Other options include the Medical Scientist Training Program (MSTP) and enrolling in a medical school exchange for rural service through the National Health Service.