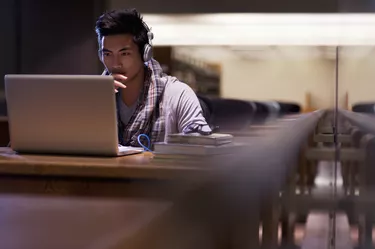 A college degree can open doors, especially if you have your eye on a career that requires it. But with the cost of college tuition averaging more than ​$35,000​ a year, a four-year degree is out of reach for many consumers. The University of the People provides affordable degree options to high school graduates, but it's important to know the limitations before you get started.
Founded in 2009, UoPeople was the first accredited online university to offer tuition-free college degrees. The university was accredited in 2014 and today offers associate and bachelor's degrees in business administration, computer science and health science and master's degrees in business administration and education. In 2020, UoPeople Arabic opened, offering degrees in business administration.
Like many online higher education institutions, UoPeople does not have a campus. You'll apply and attend classes completely online. This business model allows the college to keep its costs low. UoPeople has been an IRS-rated 501(c)(3) nonprofit since ​2010​.
First, it's important to understand UoPeople is not completely free. There are administrative costs, but they'll be a tiny fraction of what you'd pay elsewhere for a bachelor's or associate degree.
​Application fee: $60​
​Undergraduate assessment fee:​ ​$120​ per course
​MBA/M.ed assessment fee: $240​ per course
​MSIT: $300​ per course
​Transfer credit: $17​ per accepted course
UoPeople estimates that the overall cost of a degree will range from ​$2,460​ to ​$4,860.​ The low end is for an associate degree and the high end is for a bachelor's degree. Graduate degrees range from ​$2,940​ to ​$3,660​.
UoPeople also has a peer-to-peer learning model that helps students see how classmates respond to reading material to better bond them to other students.
UoPeople Career Credibility
With any degree program, it's important to consider how employers will view your degree. Acceptance of online education has come a long way in recent years due in large part to the growth in popularity with students. In ​2019​, more than ​7.3 million​ students were enrolled in distance higher education institutions.
UoPeople is accredited by the Distance Education Accrediting Commission, which has both Council for Higher Education accreditation and recognition from the U.S. Department of Education. Accreditation not only gives you cachet with hirers, but it's also necessary if you want to apply your UoPeople degree to a graduate degree elsewhere.
Online Degree Pros and Cons
Although you can get a quality education while also saving money, distance learning does come with some downsides. You'll miss the face-to-face interaction that comes with sitting in a classroom. Some students also find that the flexibility UoPeople offers can make it all too easy to slack off, leading them to fall behind on coursework and eventually be unable to catch back up.
That said, for those who have discipline, online programs offer numerous benefits. Classes are self-paced, which means you can work college around your own schedule. You also aren't limited geographically, which means you can attend classes while you're traveling the world or sitting on your sofa in your PJs.
You aren't completely on your own with distance learning, though. Like other online colleges, the UoPeople class forum lets you interact with other students and post any questions you have about the course material. UoPeople also has a peer-to-peer learning model that helps students see how classmates respond to reading material to better bond them to other students.
Taking online courses can be a convenient way to get a degree without having to show up in a classroom. UoPeople is the most affordable online degree program, but it's important to compare it to other options to make sure you're getting the best solution for you.